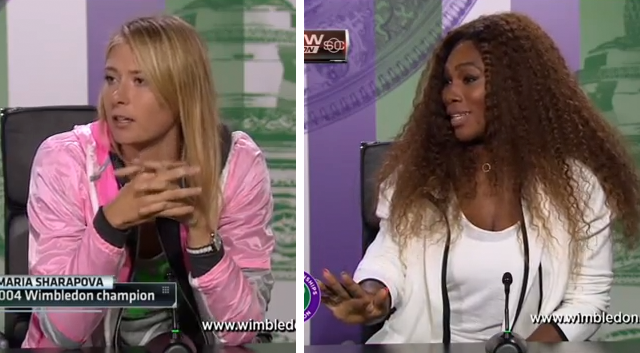 The worldwide famous reality star Kenya Moore once said, "Don't come for me unless I send for you." Serena Williams heeded Kenya's warning and avoided sending for Maria Sharapova because the shade she served Serena during her Wimbledon press conference was lethal.
In the world of tennis, personalities and egos clash as violently as the balls and rackets do. Serena Williams, one of the more well-known celebrities in the sport, is as known for her brash personality and style as she is for her serve.
Serena's mouth recently got her in hot water after she made comments in Rolling Stone about the Steubenville rape case that many construed as her arguing that the girls "deserved" to be raped. But it's her veiled comments about Maria Sharapova that made her a villain in many tennis fans' eyes.
"There are people who live, breathe and dress tennis. I mean, seriously, give it a rest." Serena exits the car and the conversation moves on to a top-five player who is now in love. "She begins every interview with 'I'm so happy. I'm so lucky' – it's so boring," says Serena in a loud voice. "She's still not going to be invited to the cool parties. And, hey, if she wants to be with the guy with a black heart, go for it."
Maria heard about what Serena said and she decided to respond during a press conference. Her answer started out sweetly enough, with Sharapova complimenting Serena's abilities as a tennis player, but then the knives came out in the last minute and she verbally slit Serena's throat with shade so sharp it could skin the hair off of Serena's underarms.
"I just think that she should be talking about her accomplishments, her achievements rather than everything else that's just getting attention and controversy. If she wants to talk about something that's personal, maybe she should talk about her relationship and her boyfriend that was married, and is getting a divorced and has kids," Sharapova said.
HOT DAMN. So Sharapova just went ahead and called Big Serena a homewrecker? The tennis version of Alicia Keys?
The man Sharapova is referring is tennis coach Patrick Mouratoglou. He was, at least until recently, a married man and word on the street is Serena might have had something to do with the split from his wife.
So yeah, Maria just went ahead and poured all of Serena's tea out on international television.
How did Serena respond? With her damn tail between her legs.
"She was inadvertently brought into the situation by assumptions made by the reporter," Williams said. "I personally talked to Maria at the player party, incidentally. I said, 'Look, I want to personally apologize to you if you are offended by being brought into my situation. I want to take this moment to just pour myself, be open, say I'm very sorry for this whole situation.' "
Serena got served. At least she took like a man, er, woman.
Be the first to receive breaking news alerts and more stories like this by subscribing to our mailing list.