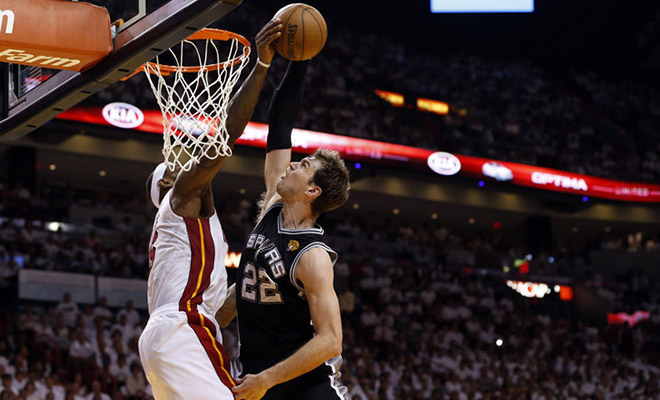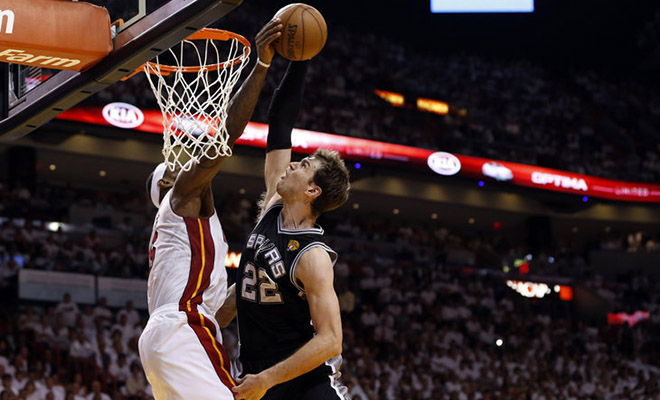 Effectively tying the series 1-1, the Miami Heat beat the San Antonio Spurs, 103 to 84, and pretty much embarrassed them as they turned a close game into a rout with a 33-5 run from about 7 minutes into the third quarter to about 3 minutes into the fourth.
More on that later, but for now, let's talk about that dunk attempt from the Spurs' Tiago Splitter that LeBron blocked the fawk out of with SO. MUCH. POWER! Seriously, Bron-Bron could have hurt innocent bystanders with that much force.
Check out it out here: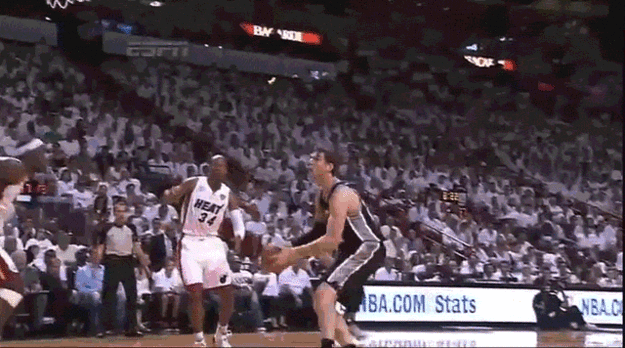 And here's another view from the perspective of the rim: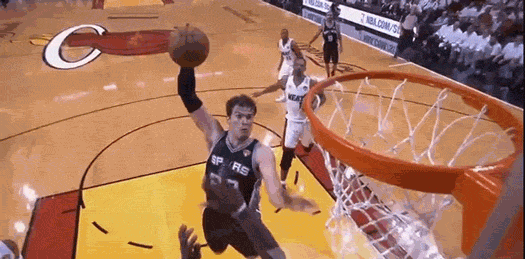 With a little more than eight minutes remaining in the fourth and Miami leading 86-67, James darted over from the right baseline, leaving Kawhi Leonard to meet a driving Splitter right in the middle of the paint. Splitter attempted a right-handed slam over the top but James rose and capped the shot with his right hand, knocking the ball free and allowing Chris Bosh to recover it for Miami. James celebrated the play with a flex, a chest pound and a scream.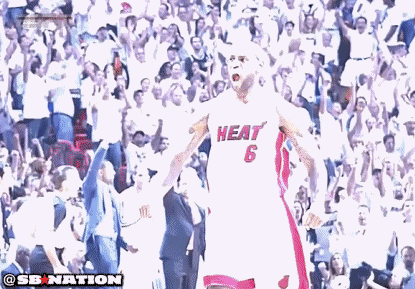 "Basically, I told myself, you'll end up on SportsCenter one way or another, either getting dunked on going to get a block," James said. "Luckily I was on the good side of the Top 10."

Heat coach Erik Spoelstra singled out James' selflessness on the play, what with the looming possibility of a YouTube posterization.

"A lot of players wouldn't go for that," he said. "[There's] the possibility of getting dunked on and being on a highlight film. He's been on that highlight film both ways. It takes great courage to go up and make one of those plays."

"He blocked it," Heat guard Mario Chalmers said. "I mean, we seen that coming. I know I kind of figured he was going to block that one, just the angle he had. That's why he's First-Team All-Defense."
The Heat also did a good job at making the stolen possession count, with Ray Allen sinking a three-pointer followed by one of those classic LeBron James assists.
WATCH HERE:

[Sports Illustrated / GIFs via BuzzFeed, SB Nation]
Be the first to receive breaking news alerts and more stories like this by subscribing to our mailing list.