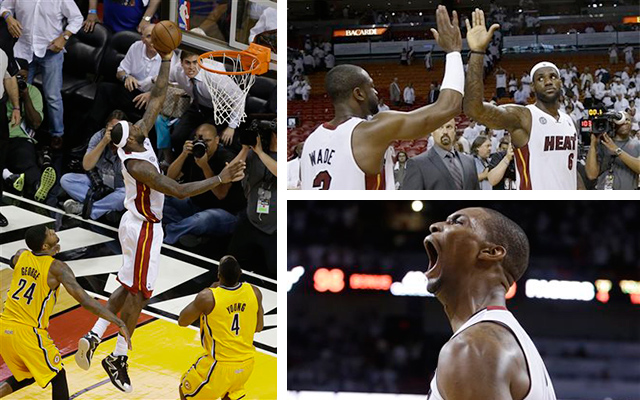 It was a close first playoff game, but after going into a nail-biting overtime, the Miami Heat pulled through and came out on with top at the very last minute in a victory over the Indiana Pacers, all thanks to that LeBron James guy, who finished with an impressive 30 points, 10 rebounds and 10 assists.
WATCH LEBRON MAKE HIS GAME-WINNING SHOT HERE:
Tonight's game marked Bron-Bron's ninth postseason triple-double, but no one really cared about that. The only thing that mattered was whether or not King James would live up to his name and sink that final shot. And HE DID!
Roy Hibbert form the Indiana Pacers couldn't do anything but shake his damn head…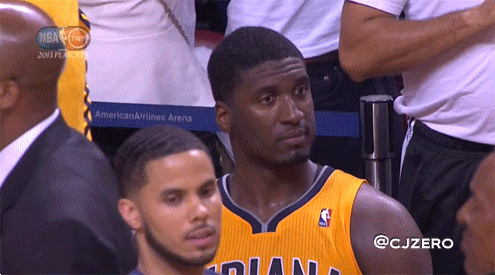 The final score was 103-102.
As reported by the Associated Press:
Paul George made three free throws with 2.2 seconds left in the overtime, which he forced with a miracle 3-pointer, to give the Pacers the lead. But James — with Indiana shot-blocking center Roy Hibbert curiously on the bench — just drove down the left side of the lane, scored with ease and the Heat escaped.

Officials reviewed James' play at the end, though it was clear he beat the clock, and the Pacers walked slowly toward their locker room, lamenting one that got away — by no fault of George's.

George was fouled by Dwyane Wade on the play where the Pacers had to think they had stolen the series opener.

George saved the Pacers in regulation with a 32-footer with 0.7 seconds left in regulation that tied the game, and tried a shot from a similar distance as time was expiring in the extra session.

Referee Jason Phillips said Wade hit George, and the Pacers' star made all three free throws for the 16th lead change of the night.

The final lead change came moments later, and Miami survived a game that had 18 ties and neither team ever leading by more than seven points.

Wade scored 19 points, Chris Bosh had 17 and Chris Andersen had 16 on 7-for-7 shooting for Miami.

George scored 27 for the Pacers, who got 26 from David West and 19 from Hibbert. The Pacers have won only two series in franchise history after dropping a Game 1.
Game 2 goes down Friday night in Miami.
Be the first to receive breaking news alerts and more stories like this by subscribing to our mailing list.