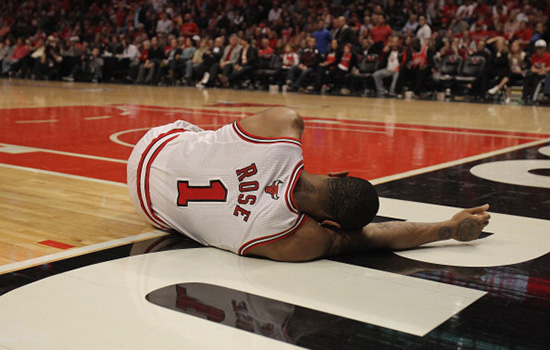 Chicago Bulls fans have no doubt been missing their star player Derrick Rose do his thing on the court, as the NBA star has been recovering from a serious ACL injury since the 2012 playoffs. But one fan in particular has taken Rose's injury and him missing the entire 2012 – 2013 NBA season (it isn't known whether or not he will miss this year's playoffs too) so seriously that he's decided to sue the Bulls point guard.
HipHop365 reports that a 25-year-old Peoria, Ill. man named Matthew Thompson, who is a longtime Bulls fan, filed a lawsuit against Derrick Rose last Thursday, claiming that Rose's lingering injury and extended absence from the team has led to Thompson having several mental breakdowns and suffering from emotional distress, which ultimately led to his current "obesity issues."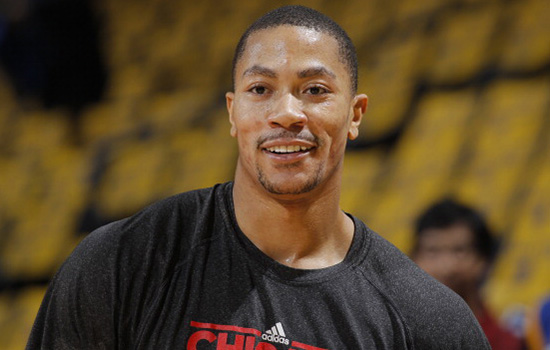 So in other words, Derrick Rose missing this NBA season, and the fact that he will most likely miss this year's playoffs, after already missing last year's playoffs, has made Thompson a "fat, depressed, mess," as Bleacher Report put it.
According to reports, Thompson claims in his lawsuit that Rose is displaying "negligent behavior" by refusing to return to the court, even though team doctors cleared him to play last month.
Despite Rose's absence from the team, the Bulls managed to make it to the 2013 NBA Playoffs, though they are getting off to a rocky start. They played in New York against the Brooklyn Nets Saturday (Apr 20) and lost, 106 to 89. The Bulls will play again in New York against the Nets tonight at 8 p.m.
Matthew Thompson should be happy the team has at least made it to the playoffs, and him getting fat and being depressed certainly isn't Derrick Rose's problem.
It isn't known whether or not Peoria County, Illinois will take his ridiculous lawsuit seriously, but they definitely shouldn't.
Be the first to receive breaking news alerts and more stories like this by subscribing to our mailing list.