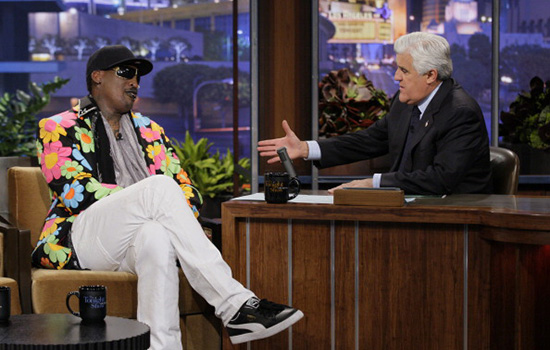 Wearing the loudest jacket he could find (and his signature black lipstick), former basketball player and current professional hot mess Dennis Rodman hit up the "Tonight Show with Jay Leno."
While there, Rodman — who made it a point to show off his brightly colored nail polish — talked to Leno about everything from his new children's book and what he's been doing lately, to his daughter, appearing on "Celebrity Apprentice All-Stars," and the recent death of Los Angeles Lakers owner Dr. Jerry Buss, who Rodman said was like a father to him.
Struggling to hold back a river of tears, Rodman got choked up when Leno brought up Dr. Buss' death.
"He's like my dad. Damn man, it's like, wow," the emotional NBA Hall of Famer said as he struggled to find the words to express himself. "I didn't want to bring this up, you know. He's just … like a dad. I never had a dad so — what the hell. It's just awesome, man."
Dennis Rodman played for the Lakers during the 1998-99 season. Dr. Buss, who died at the age of 80 after a private battle with cancer, purchased the Lakers 10 years prior in 1979.
Watch Dennis Rodman's interview with Leno below:
Be the first to receive breaking news alerts and more stories like this by subscribing to our mailing list.