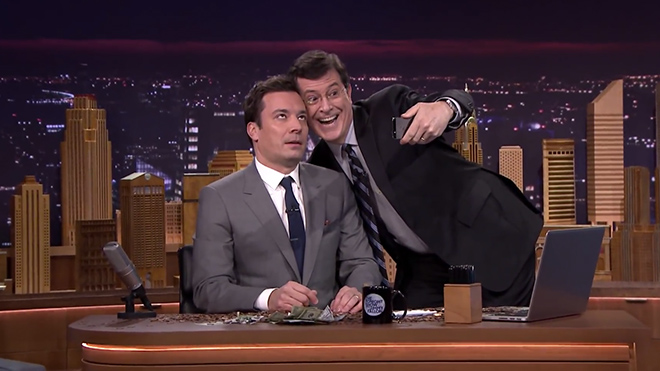 Jimmy Fallon's first "Tonight Show" was a success!
The funnyman kicked off his stint as the new host of NBC's "Tonight Show" Monday night, and Fallon's first episode was a lot of fun and it was LOADED with star power.
Not only did Will Smith make an appearance, giving us the "Evolution of Hip Hop Dancing," but Jimmy Fallon's "Tonight Show" debut also featured a parade of A-listers, including Lindsay Lohan, Lady Gaga, Mike Tyson, Tina Fey, Seth Rogen, Tracy Morgan, Kim Kardashian, Mariah Carey and many others.
During his opening segment, Jay Leno's successor thanked his fans for their support, then mentioned a "buddy" of his who bet him that he would never host The Tonight Show. "You know who you are … you owe me $100 bucks buddy," he said.
Then out comes Robert De Niro, who slams $100 right on Jimmy's desk, and from there, everyone else walks in with their $100 bills, except for Stephen Colbert who came in with a bucket of pennies, stealing the show.
"Welcome to eleven thirty … BITCH!" Colbert shouted at his new timeslot rival.
WATCH THE HILARIOUS CLIP ABOVE
Be the first to receive breaking news alerts and more stories like this by subscribing to our mailing list.