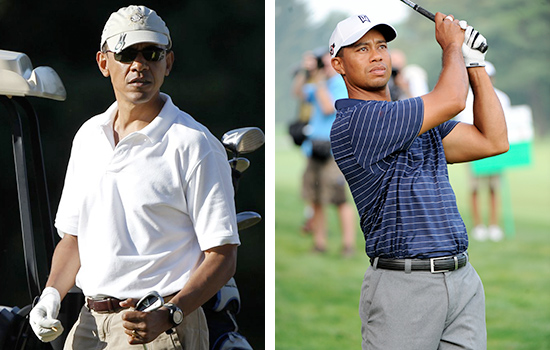 Here's a pair you don't expect to hear of together, but anything is possible. President Obama and Tiger Woods played golf together over the weekend.
President Obama was in Florida on a three-day vacation with First Lady Michelle Obama, and the Prez is known to be an avid golf player, so who better to play the game with than one of the best?
The duo played Sunday (Feb 17) at The Floridan Golf Club in Palm City, Fla and were also joined by the club's owner Jim Crane, as well as Woods' former swing coach Butch Harmon.
"Well, when you get to play with the president and Tiger Woods in the same round, that's one that doesn't happen every day and it might not happen again," Crane told MLB.com. "It was a lot of fun. The President was very cordial, and Tiger had a lot of fun and hit some great shots. We had a lot of fun."
On the President's golf game, Crane added, "He played well today. He made some good shots and had some pars, and I think he shot in the 80s. The weather was nice and we had fun. I think he really enjoyed his visit and we really enjoyed having him in the Floridian, and hopefully we'll have him back some day."
Harmon told Golf Digest, "Just to see the interaction between the two on the range was pretty neat. The President said to Tiger: 'The last tournament you played was fun to watch. It's good to see you play well again.' You could tell he meant it. It just wasn't a throw it out compliment."
Wonder if we'll ever see the president and Michael Jordan on the basketball court. Wouldn't that be epic?
Be the first to receive breaking news alerts and more stories like this by subscribing to our mailing list.