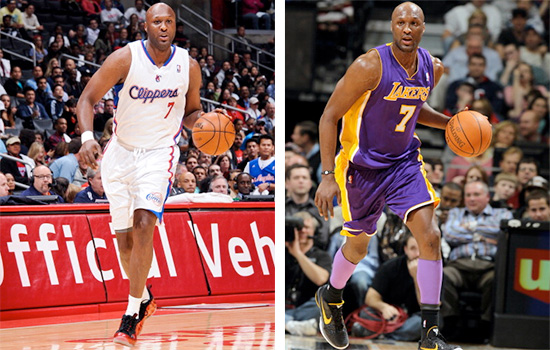 Lamar Odom seems to be a bit confused about the basketball team he plays for. A recent video clip from the Los Angeles Clippers' media day shows Odom — dressed in full Clippers gear — accidentally identifying himself as a member of the Los Angeles Lakers. (At least he got the city right!)
"Hi, I'm Lamar Odom of the Los Angeles Lakers," the 6-foot-10 Forward said.
Too bad Lamar plays for the CLIPPERS now, and not the Lakers. When told of his mistake, Odom says in the video, "I said Lakers?!"
Yes, Lamar. You said Lakers.
Easy mistake though … seeing as when Lamar Odom was first drafted into the NBA in 1999, he spent four seasons playing for the Clippers, followed by one season with the Miami Heat and seven illustrious years with the L.A. Lakers. And last December, Odom was traded to the Dallas Mavericks, before he was traded back to his original team, the Clippers.
So after all of that switching back and forth (three teams in one 12-month period!), it's almost understandable why Lamar would be confused as to which team he actually plays for right now. Either that or he really wants to be a Laker again. Probably a little bit of both.
Instead of keeping up with the Kardashians, Lamar needs to keep up with what NBA team he plays for.
Be the first to receive breaking news alerts and more stories like this by subscribing to our mailing list.