Despite being downgraded from a hurricane to a tropical storm late Monday (Oct 29), when Sandy hit … she hit HARD, leaving a devastating path of destruction behind her.
As of 5 p.m. Eastern on Tuesday, October 30th, the Associated Press reports that the nationwide death toll from Sandy is at 39 people, and with heavy search and rescue still underway, that number still has the potential to rise as the days go on.
Additionally, nearly 10 million people from Maine, to the Carolinas, to Ohio woke up Tuesday morning without power, including New York City and parts of New Jersey, Connecticut, Delaware, and Massachusetts, which were among the places where the storm hit the hardest.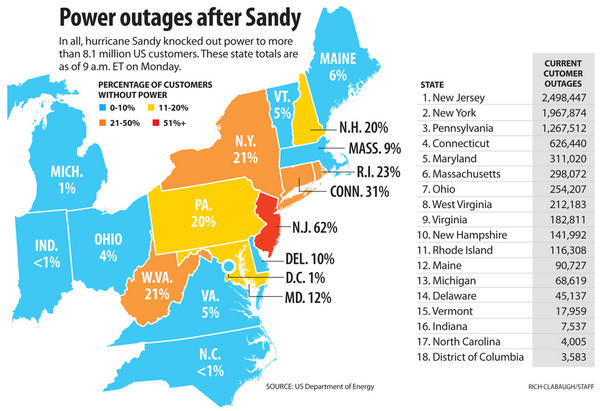 The wrath of Sandy caused torrents of water to fill the streets of Atlantic City, while also ripping up parts of the popular vacation spot's boardwalk.
The late-season storm also set records on Manhattan island, which was hit by an unprecedented 13-foot surge of seawater — at least 3 feet above the previous record — that gushed into the city, flooding its tunnels, subway stations and the underground electrical systems that power the megalopolis.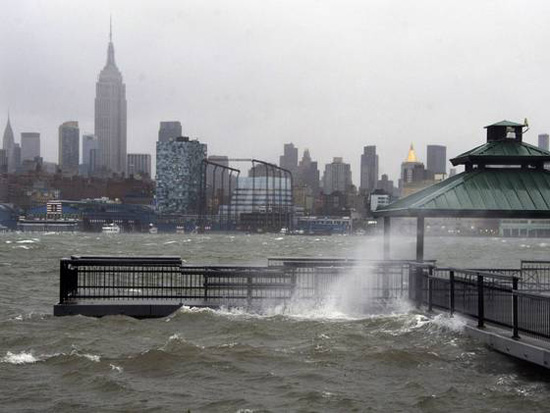 The massive storm caused skyscrapers to sway, and a crane sitting above a 75-story building currently under construction collapsed, and could still be seen dangling beside the tower the next day.
Airlines canceled more than 15,000 flights, and New York City's three major airports were shut down. Most major tunnels and bridges in New York were closed, as were schools and Broadway theaters.
And thanks to the high tides boosted by a full moon, a giant 700-ton tanker ship was displaced, and washed ashore on Staten Island. Also, the facade of one building literally collapsed as a result of the dangerous, 80-90 mile per hour winds.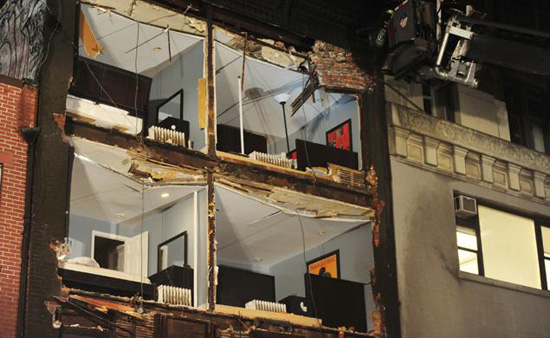 New York City Mayor Michael Bloomberg said the "devastating storm" was "maybe the worst that we have ever experienced." He said that there was an "extraordinary" amount of water in Lower Manhattan, as well as downed trees throughout the city and widespread power outages.
"We knew that this was going to be a very dangerous storm, and the storm has met our expectations," he said. "The worst of the weather has come, and the city certainly is feeling the impacts."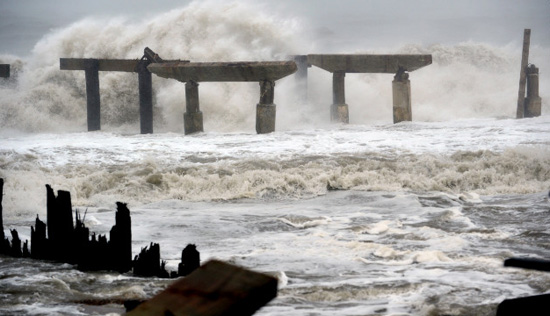 New Jersey Governor Chris Christie said Sandy was "beyond anything I thought I'd ever see … It's a devastating sight right now."
Sandy's death toll in the U.S. included several people who were killed by falling trees, and at least three of the victims were reported to be children, one just 8 years old.
Off the coast of North Carolina, a replica of the 18th-century sailing ship HMS Bounty that was built for the 1962 Marlon Brando movie "Mutiny on the Bounty" sank, and Coast Guard helicopters rescued 14 crew members from rubber lifeboats bobbing up and down in 18-foot seas.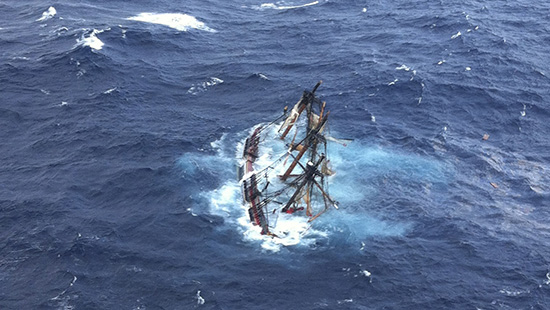 After a search on the boat, a 15th crew member was found unresponsive and was later pronounced dead. The ship's captain was still missing.
Sandy also claimed the lives of 69 people in the Caribbean before making its way up the Eastern Seaboard, bringing Sandy's total worldwide death toll to over 100.
Flood watches, wind warnings, storm warnings, blizzard warnings, winter storm warnings and winter advisories are all in effect for much of the Eastern part of North America, including parts of Canada and the Northeastern United States, but the worst of Sandy is now behind us.
Be the first to receive breaking news alerts and more stories like this by subscribing to our mailing list.