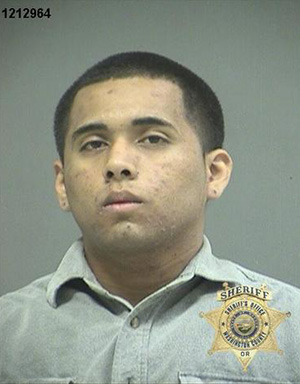 There are plenty of professions where falling asleep on the job would be a no-no … like surgeons, barbers, firemen, toll booth workers, prison guards, factory workers, pilots, and yes, even robbers/burglars.
Too bad this guy didn't get the memo.
According to reports from The Oregonian, 20-year-old Christian Villarreal-Castillo was arrested and charged with burglary and theft in Rockcreek, Oregon after he was caught sleeping on the kitchen floor of the home he was in the middle of robbing.
Deputies were called to the residence, 18700 block of NW Shadow Lane, concerning a reported burglary around 4:48 a.m. The resident reported that there was an unknown man sleeping on his kitchen floor.

Upon arrival, the deputies found the residence had been ransacked in an apparent attempt to steal valuables. Deputies believe Villarreal-Castillo entered the residence through an unlocked door but fell asleep while he was gathering items.
When the man was taken into custody, deputies found other possibly stolen items on his person, including a portable GPS and other electronics.
Deputies also reportedly connected Christian with a previous burglary that was committed just a few hours before he was arrested and hauled off to the Washington County Jail.
Villarreal-Castillo was charged with two counts of burglary, attempted theft, trespassing and criminal mischief. His bail was set at $100,000 and there are more charges pending.
Be the first to receive breaking news alerts and more stories like this by subscribing to our mailing list.