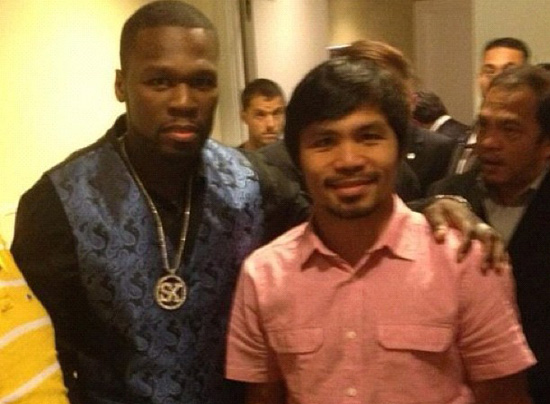 After a failed attempt to do serious business with his "BFF" Floyd Mayweather Jr … 50 Cent has decided to join forces with Mayweather's rival Manny Pacquiao to create a new sports promotion company.
If that sounds odd — seeing as Fiddy is supposed to be really good friends with Money Mayweather, and they started a boxing promotion TOGETHER called "TMT Promotions" earlier this summer — that's because it is!
But allow us to explain.
Apparently, Fiddy and Floyd's relationship has been a bit rocky ever since Mayweather was released from prison for domestic violence charges back in August.
In a recent interview with MTV's Rapfix, 50 Cent noted, "[Floyd] is different. [There's been] a different side of Floyd coming out of the pen," but also stated, "Me and Floyd is always gonna be cool."
But that was before 50 told Floyd that he was dumping their business venture, in favor of one with his arch nemesis Manny Pacquiao. And now we hear things between the two of them aren't so "cool" anymore, and there are talks that 50 and Floyd's less than 3-month old company has already closed up shop.
Interestingly, Pacquiao's advisor Michael Koncz revealed to BoxingScene.com that Mayweather was initially supposed to be a part of 50 Cent and Manny Pacquiao's new company, but he doesn't appear to be involved at this point.
"50 Cent and I have been talking now for maybe the last two months," Koncz told BoxingScene. "They approached us with the idea to form a promotional company. Initially it was going to be 50 Cent, Manny and Floyd. But right now I don't think Floyd is going to be a part of it."
He continued, "I think with 50 Cent, with his entertainment connections and his popularity there, combining that with Manny's popularity and expertise in boxing – we can bring a new flavor to boxing – we can excite some young boxers and I think we can sign some top quality boxers … We're all excited about it. With 50's influence in the music industry – we want to put a different flavor on the shows."
Does this mean we have to say goodbye to the Money Team? Guess we'll just have to wait and see how this all pans out from here.
Be the first to receive breaking news alerts and more stories like this by subscribing to our mailing list.