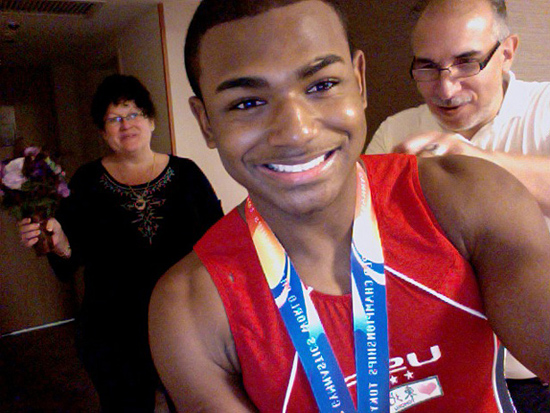 If there's one Cinderella story to watch from the 2012 Summer Olympics, it's the story of 19-year-old gymnast John Orozco.
Growing up poor, black and underprivileged in the Bronx, John faced an uphill battle to pursue his love of gymnastics, a mostly white sport that usually only children of privilege have the luxury of practicing.
But it was his parents, Will and Damaris Orozco, who were his biggest supporters throughout his gymnast career.
By now, you've heard Orozco's tale. His father worked as a sanitation worker for New York City; and his mother made the sacrifice to drive John to and from his gym practices daily, a 90-minute trip that she endured while battling lupus and arthritis, according to a profile in the New York Times.
John's parents claim Puerto Rican heritage, and while the island nation is certainly populated by people of varying mixed races, you can't help but notice that John is noticeably darker and bearing more African-looking features than his light, white-looking parents.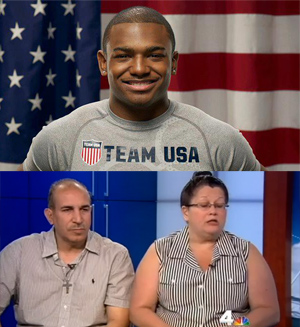 So the big question on many viewers' minds remains:
Is John Orozco adopted?
None of the interviews that feature John or his parents has mentioned this, but gymnastics community ChalkBucket posed the question, and a few commenters claim that John is in fact adopted and it's not a secret.
"Yes. he's Dominican," says ChalkBucket user dunno. "I recall that there are 1 or 2 other siblings that might me be adopted also."
Looking at this photo (below) of a young John Orozco and his siblings, it would indeed appear that at least one of his siblings, (the young boy in the black t-shirt to the left of John) also looks blacker than the rest of the family and may be adopted as well.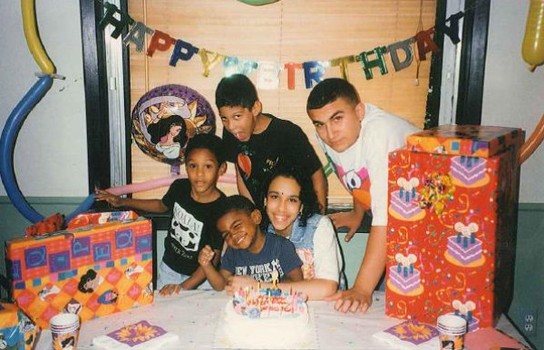 Another commenter, gym law mom, claims that her friend who is a gymnast knows that John is adopted:
"My gymmie knew he was adopted so it doesn't seem to be a secret. May just be the family doesn't talk about it much. My gymmie thought it was pretty cool since she's adopted."
Perhaps we'll learn more about John's biological family tree once the Olympics are over, though it is odd that the parents aren't being forthcoming about the obvious racial disparities between them and their son.
It's kind of like how Michael Jackson just showed up with three white children and called them his sons and daughters, expecting no one to raise an eyebrow to the "fact" that a black man biologically fathered three lily white children of the corn.
But whatever John's real roots are, he has a tough road ahead of him in London at the Olympic games.
He flubbed things pretty badly with the men's team on Monday, but he has a chance to redeem himself today in the all-arounds.
All eyes will be on John and his family as he strives for the gold medal and Olympic glory.
For a little inspiration and hope, check out John's story as he relives his struggles in the video for Gym Class Heroes' song "Fighter" below. It's proof that dreams can come true, even when they seem totally beyond reach.
Be the first to receive breaking news alerts and more stories like this by subscribing to our mailing list.