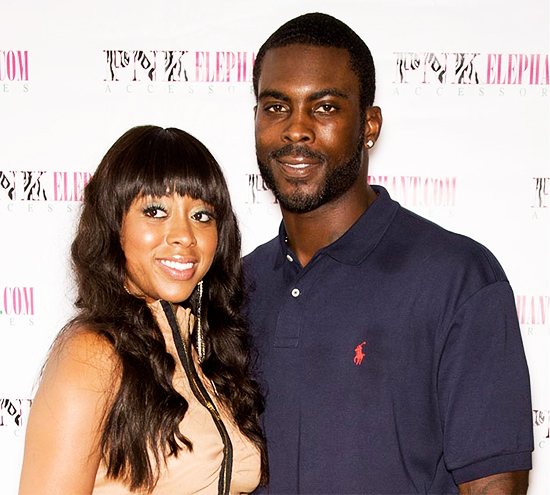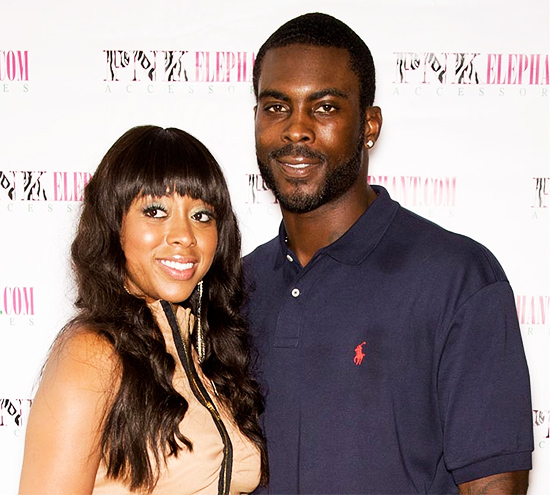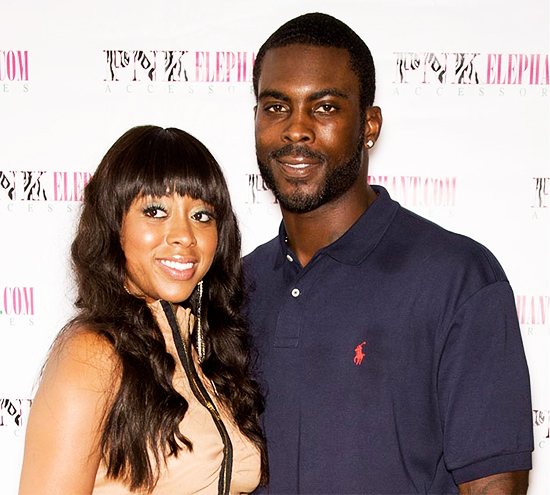 NFL star Michael Vick and his longtime girlfriend/baby mama Kijafa Frink got married in a lavish wedding ceremony Saturday (Jun 30) at the Fontainebleau hotel in Miami.
According to GossipExtra.com, security alone for the ceremony set the Philadelphia Eagles' quarterback back at least $300,000, which is probably chump change for Vick, who recently signed a $100 million six-year contract with the Eagles.
Following a pre-wedding cocktail party that began before sunset at an outdoor patio overlooking the ocean, guests moved into a large ballroom where both the ceremony and reception took place.
The vibe was relaxed, with hookahs on the tables and R&B music playing in the background. There were at least 300 of Vick's family members, friends and colleagues in attendance, including Eagles running back LaSean McCoy and head coach Andy Reid, as well as Atlanta Falcons wide receiver Roddy White and free agent wideout Plaxico Burress, among other NFL players.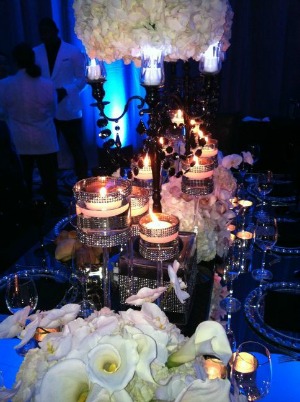 The decor featured lots of white candles, white flowers and blinged out chandeliers.
The menu was a mixture of lobster, oysters and shrimp, and even chicken and waffles, something that the Fontainebleau — one of South Florida's most expensive hotels (where wedding dinners start at nearly $200/plate) — had reportedly never served before.
The groomsmen went with a tropical theme and paired their tuxes with pink and purple shirts.
Security was also pretty tight, with police stationed outside the ballroom to collect cameras and cell phones from guests, so that they wouldn't be tempted to tweet pictures from the private event.
Michael Vick and Kijafa Frink have been together since 2001, back when Vick played college football for Virginia Tech, and the couple stuck together through the worst of times, even when Vick was serving time in prison after his infamous dog fighting scandal.
After 8 years together, Vick proposed to his longtime girlfriend in 2009 at her 29th birthday party, getting down on one knee in front of dozens of guests.
The following year, the NFL player gave his fiancee a fully loaded Porsche Panamera for her 30th birthday.
"I watched him develop from a little boy to a grown man," Kijafa told NBC Philadelphia.
Michael and Kijafa have two daughters together, and Kijafa runs her own Philadelphia-based jewelry business PnkElephant.
When asked what she likes most about her husband, Kijafa said, "I like Mike 'cause he's humble … He's really, really down to earth. You wouldn't think that somebody of his stature would be just like a regular guy."
"He's so chill … He's not cocky. He's not what a lot of people think that he is. I think the media portrays him to be a monster…a mean person. He's not like that. He's a gentle giant," she added.
Be the first to receive breaking news alerts and more stories like this by subscribing to our mailing list.