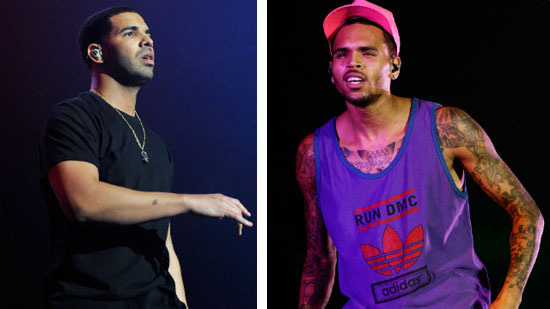 Celebrity boxing promoter Damon Feldman wants to see Chris Brown and Drake put on boxing gloves and fight each other in the ring … and he's offering them $1 million each to do it!
Should Drake and Chris Brown take the offer (and there's a 100% chance that they won't), the fight would be a pay-per-view event that will go down this August in either Las Vegas or Los Angeles.
The fight, Feldman said, would feature three rounds, at one minute a piece, with the entertainers donning oversized gloves and protective head gear.
"Obviously they have a grudge. It's just three 1-minute rounds. No one will get seriously hurt," Feldman said in a statement.
In addition to the $2 million that will be split between Breezy and Drizzy, another $1 million would go to a battered women's charity, as an obvious dig to Chris Brown, who was infamously arrested for assaulting Rihanna back in 2009.
Feldman also reportedly extended an invitation to Rihanna, who would serve as the event's ring girl … but even he knows that's a stretch. "I'm 99.9% sure she'll say no. But I can guarantee you, if the fight happens, she will be watching,"
Neither camp has yet to reply to the offer, but the speculation of a match between the R&B singer and the Young Money rapper has people already choosing sides.
"I would take Chris," rapper 50 Cent told California radio station KMEL last week. "I guess it's cause of all the physical things I see him doing with dancing and moving. He be slipping and moving. I don't see Drake doing that. Chris be having his shirt off. He got one of them MMA fighter looks. Like he might have did karate when he was a kid. He's kicking, doing splits and stuff. This could really get interesting."
The respective entourages of Chris Brown and Drake got into an all-out brawl earlier this month at W.i.P nightclub, which resulted in injuries to Brown, his girlfriend Karrueche Tran and Brown's bodyguard Big Pat (who had to get stitches for a nasty gash in his head). Other innocent bystanders, including an Australian tourist, a model and NBA star Tony Parker, were also injured.
Parker, who was hanging out with Brown at the time, was left with a scratched cornea that could cause serious complications in his plans to compete with the French basketball team in the upcoming Summer 2012 Olympics in London. The athlete also filed a $20 million lawsuit against the club's owners last week.
Drake vehemently denies any involvement with the fight.
Meanwhile, W.i.P — which had already been closed since the night of the incident — had their liquor license suspended following a string of "assault and altercations" that had taken place at the club in the three months that led up to the Chris Brown and Drake fight.
If Chris Brown and Drake were to actually accept this ludicrous offer to box each other on pay-per-view … who do you think would win?
Be the first to receive breaking news alerts and more stories like this by subscribing to our mailing list.