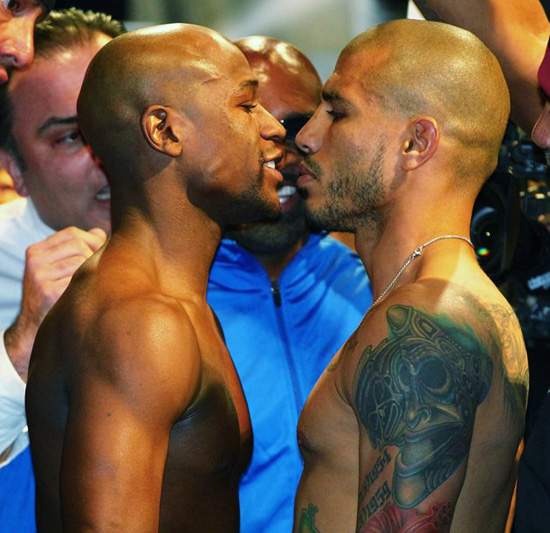 Professional boxers Floyd Mayweather Jr. and Miguel Cotto stare each other down during the official weigh in for their big boxing match, which is scheduled to go down Saturday night (May 5) at the MGM Grand Garden Arena in Las Vegas.
Mayweather — one of the biggest stars in the sport of boxing — has a spotless record of 42-0. That's 42 wins … and ZERO losses.
Cotto's record, however, isn't so spotless … but out of 39 total fights, he's only had 2 losses (his record is 37-2, 30 knockouts), which is still pretty decent, but the odds are 6-1 in favor of Floyd Mayweather.
But Miguel Cotto isn't too worried about the odds. "I don't need anyone else giving me a chance," Cotto said. "If I can trust in myself, I don't need anyone else believing in me."
"Nobody is invincible in life. I know that because I pass through this point in my life," Cotto said. "I'm ready for anything Floyd brings me. The question is, is Floyd ready for anything Miguel can bring to him?"
Even if the odds are in favor of Floyd Mayweather — who weighs in at 147 pounds –the 154-pound Miguel Cotto could definitely challenge the undefeated boxer.
"The only thing I can say is I'm ready, and I am prepared for anything that happens in the ring," Cotto said. "I'm going to work every second in there."
This will be Mayweather's last fight before he faces an 87-day jail sentence on charges stemming from an assault on his ex girlfriend/baby mama.
Check out the pics from Friday's (May 4) official weigh-in and Wednesday's (May 2) press conference below:
[Source: Yahoo! Sports]
Be the first to receive breaking news alerts and more stories like this by subscribing to our mailing list.