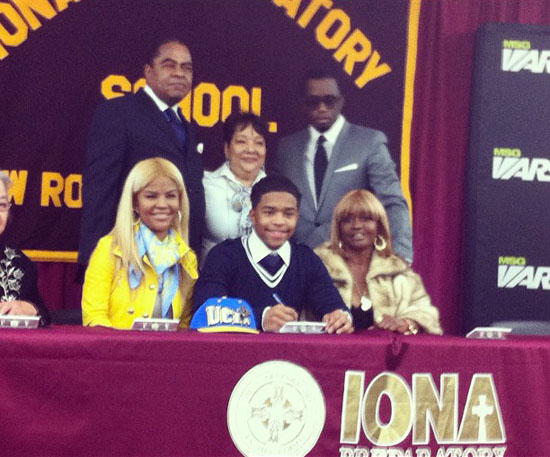 Congratulations are most definitely in order for Diddy's 18-year-old son Justin Combs, who has officially signed on to play football next year at UCLA!
Flanked by his family, including his proud multimillionaire father, his mother Misa Hylton and his grandmother Janice Combs, Justin — a 5-foot-9, 175-pound corner-back — signed a national letter of intent at the school on National Signing Day Wednesday (Feb 1) in Los Angeles.
"It was love at first sight," Justin told reporters following the press conference. "When I stepped on the campus, I knew I was going to be a player there. I knew I just had to get there."
Justin, who reportedly worked out with Jets star cornerback Darrell Revis in an effort to improve his game, accepted the full Division 1 scholarship to play football for the UCLA Bruins, which costs up to $54K a year to attend.
"It was worth it," Justin said about signing with UCLA. "I got chills just signing it."
Justin will go out to UCLA on June 24th and is looking forward to playing his first game for the Bruins.
"It's going to be surreal at first but then at the end of the day you've got to go to work and you've got to get what's yours and show why you've been working hard," he said. "So I'm ready for that. I can't wait."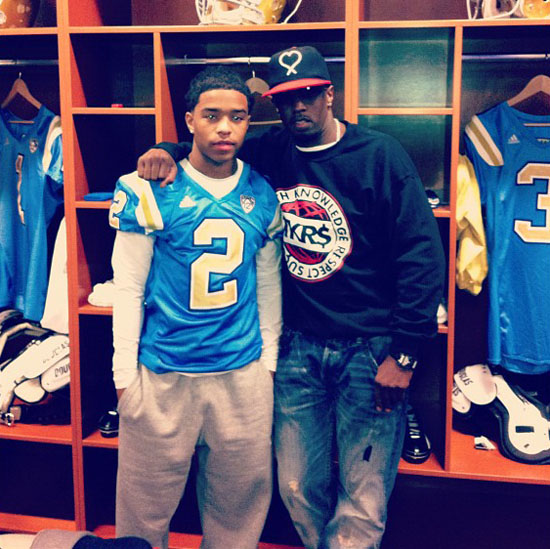 Last year when the news first broke, Sean "Diddy" Combs released a statement, calling his son's commitment to UCLA one of the proudest moments of his life.
"This is everything a father could want for his son, for him to excel at what he loves to do and is truly passionate about," said Diddy in the statement. "Justin is a shining example of what hard work, determination and a strong mentality can achieve. I am honored to call him my son and am happy that he is fulfilling his dream."
Be the first to receive breaking news alerts and more stories like this by subscribing to our mailing list.