Kentucky police say they arrested a naked man who was covered in chocolate and peanut butter at a local grocery store early Tuesday.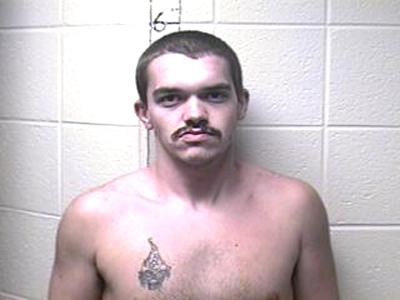 22-year-old Andrew Toothman was cuffed by State Police troopers after they responded to a 911 call from the World IGA market in Neon, a small Kentucky town with a population of less than 1,000 residents.
According to The Smoking Gun:
A court citation filed yesterday notes that Toothman–who was only wearing a pair of black boots–had "peanut butter and chocolate smeared all over person."

Troopers noted that the store's front door was "busted out," and that several fire extinguishers had been discharged. Peanut butter and chocolate were also spread on the market's floor and in the manager's office.

But the most bizarre bit of vandalism, investigators reported, involved NyQuil, the popular cold and flu remedy. "There was nyquil on the floor that spelled out sorry," according to the February 2 citation.
After admitting to breaking into the market, the naked peanut butter & chocolate burglar was charged with burglary, criminal mischief and indecent exposure, and is currently being held on $25,000 bond.
No word on why Mr. Toothman broke into a grocery store and smeared peanut butter and chocolate all over his naked body instead of just stealing stuff, like normal people … but we do have a couple of questions:
1.) What does his family think about this?
2.) Was he naked BEFORE or AFTER he broke into the store?
3.) Why did he take off everything, except for his black boots?
4.) Why was he even wearing black boots?
5.) What was up with the whole Nyquil and 'sorry' thing? Who was he apologizing to?
5.) Is he naked in his mugshot?
Sadly … we'll never get the answers to these, but it never hurts to ask, does it?
Be the first to receive breaking news alerts and more stories like this by subscribing to our mailing list.