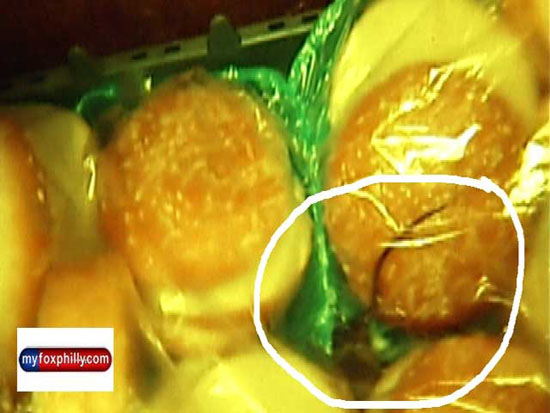 A former McDonald's employee recorded cell phone video footage of a mouse trapped inside a bag of Big Mac buns at a McDonald's in Philadelphia.
In the now viral video, which Karruim Demaio shot on November 14th in the back storage room of the restaurant, the frantic mouse can be seen scurrying across SEVERAL different hamburger buns.
"I was going back there to get something else and I heard some rustling, so I turned around, and I look, I seen a mouse inside the bread. Not on top of the package, but inside of the package," the former employee told Fox 29 reporters.
Demaio says his manager ordered him and other employees to serve the "infected" buns, and had wiped off mouse droppings from buns before serving them to customers on multiple occasions in the past.
"That wasn't the first time. That was about the sixth or seventh time. That's what made me like, I got to get video of this," he said. "I was working there from October of 2010 to January of this year. There hasn't been a time when we couldn't go in the back and see mouse droppings on the bread."
Another employee at that very same location, who chose to remain anonymous, confirmed Demaio's accusations, and actually witnessed the general manager brush droppings off the bread with her own two eyes.
But the manager denied the accusations when Fox 29 reporters asked her about them. "I'm going to call the police for that, that's so crazy," she responded.
The news team reached out to the franchise owner of that particular McDonald's and received the following statement:
"After viewing the video, we are going to continue to investigate this claim to make certain we have all the facts. I want my customers to know that I am taking this matter seriously and will immediately address any issues that may exist. Therefore, if necessary, we will work with the appropriate authorities to get the facts," said Ken Youngblood, McDonald's owner/operator.
According to the Philadelphia Health Department's recent inspections, "the establishment is not in satisfactory compliance… And current management practices have allowed unacceptable public health or food safety conditions."
Regardless … we think it's time to start cooking at home a little bit more.
Be the first to receive breaking news alerts and more stories like this by subscribing to our mailing list.