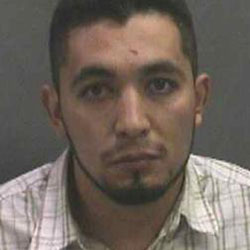 Police say they arrested a Southern California man earlier this week after he broke into his ex girlfriend's home and crawled into her bed just so that he could cuddle with her.
According to the Orange County Register, Augustin Sanchez cut through a wire screen and pushed open his former girlfriend's bedroom window as she slept at around 6:30 am on Sunday morning (Jan 8).
The police report states that after Sanchez crawled into the bed to cuddle, he also attempted to take the woman's clothes off before she slipped out of bed and called 911.
When cops arrived, they found Sanchez, who was sloppy drunk. He was arrested on the spot, and booked for suspicion of burglary and sexual assault.
Now that he's in jail, he can do all the cuddling he wants, because we're sure there are plenty of ready and willing cuddle partners in prison!
Be the first to receive breaking news alerts and more stories like this by subscribing to our mailing list.