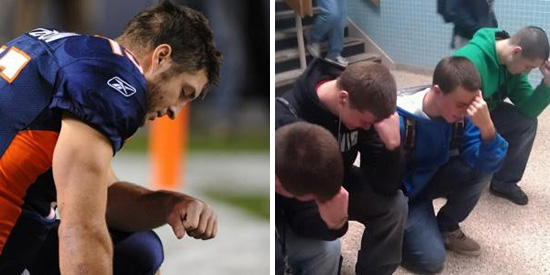 Four High School students in Long island were suspended after they caused a minor disruption in school by "Tebowing" in the middle of the hallways of their school.
"Tebowing" is a fad named after Denver Broncos quarterback Tim Tebow, who famously gets down on one knee and kneels in a sort of "prayer pose" after he scores touchdowns.
Now….the trend has apparently extended down to high schoolers who want to make their friends laugh:
Twin brothers Tyler and Connor Carroll of Riverhead HS and classmates Jordan Fulcoly and Wayne Drexel were hit with one-day suspensions for kneeling and bowing their heads like Denver Broncos quarterback Tim Tebow does when he scores a touchdown.

Administrators said the weeklong "Tebowing" craze was a distraction and a hallway hazard after dozens of classmates followed their lead.

"It was basically just a tribute to Tim Tebow," Carroll Connor, 17, who planned the prank with his brother and friends, told The Post.

"It was more than a religious thing. There was some of that involved obviously, because he prays. I guess it was basically like a moment of silence. I just don't think it's fair," said Connor, a senior linebacker, of the school throwing the penalty flag. "We were never given any warning. They said they did, but that's completely false."

The brothers have to serve their suspensions; the others were rescinded because the other participants had not been given warnings, officials said. About 40 students had been gathering in the hallway all week emulating Tebow.

School administrators said the stunt jammed the hallway, making students late for class, and was a fire hazard. "This is not about religious discrimination," said Riverhead School District Superintendent Nancy Carney. "It is about being sure kids are able to get to class on time and keeping the kids safe and orderly."

She said Principal David Wicks was completely justified in ordering the suspensions. "These students were warned and and did it again," Carney said. "If the kids aren't going to abide by rules, there are consequences."

Connor insisted the Tebowers did not create a safety problem. "There was no pushing or shoving,'' he said.

But a video of the stunt posted on YouTube clearly show kids shoving each other.

Reaction to the suspensions spread quickly and Carney said she has already received "hate mail" from around the country.

Tebow, 24, a Heisman Trophy-winning quarterback from the University of Florida, has received national attention this season because of his religious beliefs and late-game heroics, including a comeback rally against the Jets.

[NYPOST]
Check out the video footage of the "Tebowing" prank below:
<iframe width="550″ height="403″ src="http://www.youtube.com/embed/fBi3KxRJ8iY" frameborder="0″ allowfullscreen></iframe>
Do you think the kids should have been suspended?
Be the first to receive breaking news alerts and more stories like this by subscribing to our mailing list.