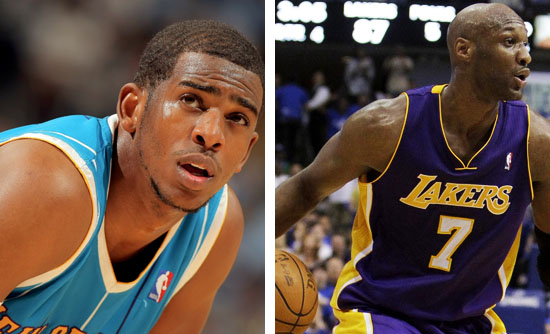 The year 2011 has seen lots of ups and downs for NBA fans, and after it was announced that the National Basketball League would be returning near the end of this month with the first games of the season to go down on Christmas Day (Sun. Dec 25) … fans were excited!
NBA fans — especially Lakers fans — were even more enthused this week when the league announced that the Los Angeles Lakers would be trading Lamar Odom to the New Orleans Hornets in exchange for Chris Paul.
However, that excitement quickly turned into disappointment once another announcement was made yesterday (Thu. Dec 8) that NBA commissioner David Stern had blocked the trade after receiving complaints from several owners of other NBA teams.
Citing anonymous sources, Yahoo Sports reported yesterday that Dallas Mavericks owner Mark Cuban was very vocal about being upset about the deal, which was done on the same day as the end of the lockout, which was supposed to restore competitive balance in the league.
The proposed deal would have sent Lamar Odom and Pau Gasol from the Los Angeles Lakers to the New Orleans Hornets and the Houston Rockets, respectively.
Someone close to the situation told the Associated Press that Chris Paul reported to practice with the Hornets on Friday (Dec. 9), and Gasol and Odom are expected to attend the Lakers' first day of training camp under new coach Mike Brown.
For now, it looks like Chris Paul for remain a Hornet, and Lamar Odom and Pau Gasol will remain Lakers.
Be the first to receive breaking news alerts and more stories like this by subscribing to our mailing list.