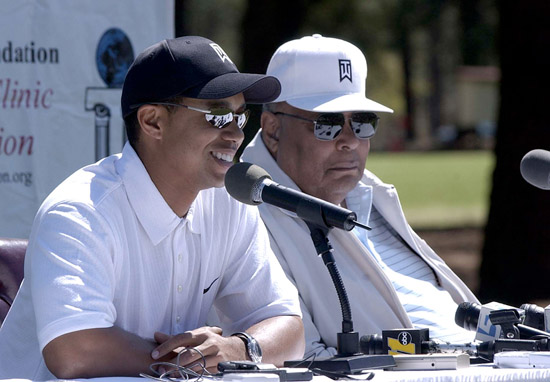 Last year everyone in the world heard about Tiger Woods having an affair with a dozen women. And now, nearly 1 year later, his half-brother is throwing him right under the bus by running his mouth about how their father would be disappointed in him. In a recent interview with KSAZ Fox 10 in Phoenix, AZ, Earl Woods Jr. talks about his father's relationship with his brother's now ex-wife Elin Nordegren, and says that he would be "very disappointed" with Tiger if he were alive today.
"I think my Dad would be very disappointed with him. He would probably want to know how he's going to fix it – you're grown enough to get into this mess, how are you going to repair it?

"[Elin] was family. My Dad and her really connected. It cost him (Tiger) a family. He'll never have the same relationship with his kids. There's always a possibility that she will go back to Sweden. That distance with the kids will tear him up. He got caught up in being human. He made mistakes and, unfortunately, those mistakes were magnified because he is who he is.

"Once the dust settles he'll start being productive. Once he gets back on track he'll be right back to where he was, if not better."
Check out the entire interview below!
Be the first to receive breaking news alerts and more stories like this by subscribing to our mailing list.