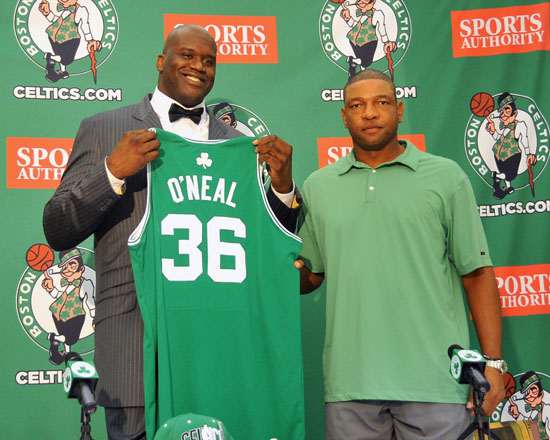 The Boston Celtics announced Tuesday (Aug 10) that Shaquille O'Neal (pictured above with the team's head coach, Doc Rivers) will be playing for their team in the upcoming basketball season.
The 38-year-old, 7-foot-1, 325-pound basketball player was officially announced as a Celtic at a press conference yesterday morning and he said that the sole reason he came to Boston was to WIN!
Peep what Shaq said at the press conference below:
"When I came into the league, I wanted to compete with Bill Russell for titles," O'Neal said with Russell's 11 championship banners hanging above him. "That's not going to happen, but I'd like to almost get half of what he got. … I still have hunger, I still can play, I still want to win," O'Neal said. "When I close my book at the end of the day it's all about winning, nothing else."
Shaq, who has played for a number of NBA teams including the Los Angeles Lakers, Miami Heat, Phoenix Suns and most recently the Cleveland Cavaliers, has won 4 NBA titles over the course of his career and hopes to end his career with at least 5 or 6 titles.
Shaq's brand new $1.4 million dollar (?) deal with the Boston Celtics is for 2 years and he says that this will most likely be his final NBA contract.
"This summer I had many options but I wanted to be with a team that was used to winning, with a team that was one or two pieces away," O'Neal said. "I think it's a good fit. … I realize I only have 730 days left in this game. I just wanted to be with a group of guys that like to win," O'Neal said. "This was a good team with or without me. I don't mind playing a role. I know where I am at this point in my career. It's about coming to a team that is one or two pieces from a championship."
Shaq's new team (the Celtics) will play his old team (the Cavaliers) for the first time in the Cavs' season opener on October 27th.
What do you think about Shaquille O'Neal playing for the Boston Celtics?
Be the first to receive breaking news alerts and more stories like this by subscribing to our mailing list.