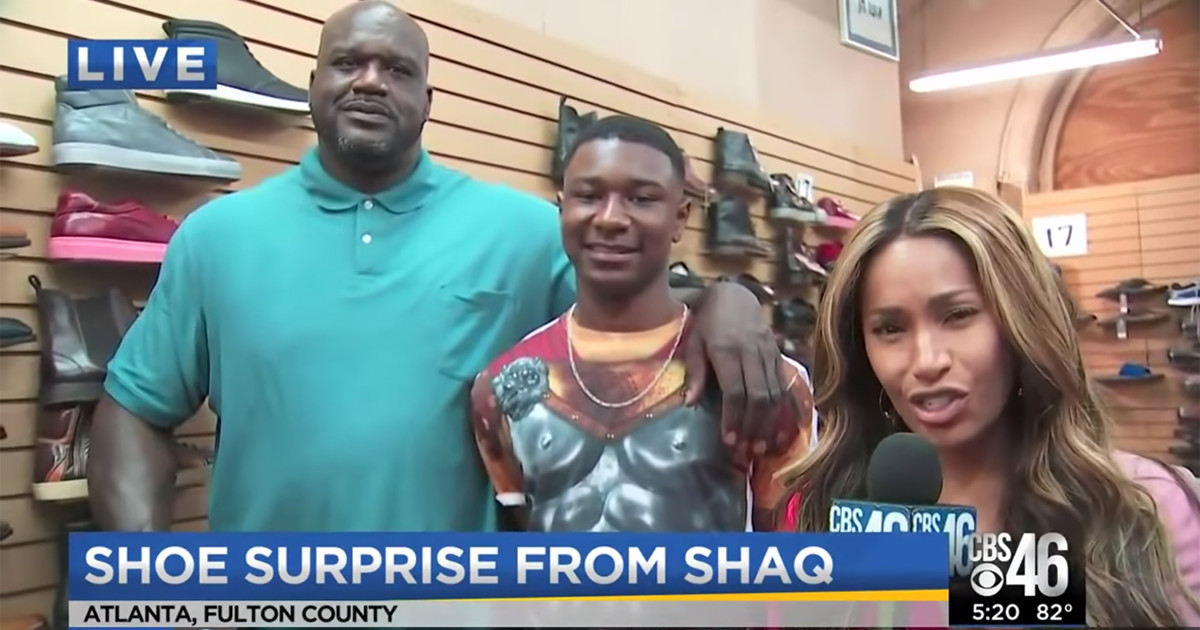 A single mother was struggling to afford shoes for her son. And then Shaquille O'Neal swooped in to offer a helping hand.
13-year-old Zach Keith already wears a size 18 shoe. In a plea for assistance, his mother recently took to social media to explain that she's unable to afford the shoes her son needs to accommodate his large (and still growing) feet.
Shaq answered the call. Earlier this week, he surprised the Georgia teen and his mother at Friedman's Shoes in Atlanta. Shaq bought Zach 10 pairs of shoes, ensuring that he had enough for any type of occasion.
"I'm like, 'Whoa, he wants to buy me shoes, out of all people?'" Zach told CBS46 news after being surprised by the NBA legend.
"This will help a lot. I won't so much have to worry about buying him dress shoes," Zach's mom, Brittany Keith, said. "He hasn't had a pair of dress shoes in about four or five years because it's been hard trying to find the ones that actually fit."
Zach and Shaq did more than shop. Shaq gave the teen basketball player pointers, some spending money, and even his personal cell phone number if he ever needed anything else.
"For me, it was just very touching, very heartfelt, to know there is someone out there that has his back," Brittany said.
"I thought this was a good thing to do," Shaq said. "Mom couldn't afford shoes. The kid had big feet. I just kind of reminisced about how that used to be me, my mom and my dad."
With his size 22 feet, Shaq sympathized with Zach's dilemma. And it was Friedman's Shoes who helped him out more than 30 years ago.
"Bruce did it for me, and I just want to return the favor," Shaq said of Friedman's owner Bruce Teilhaber.
Be the first to receive breaking news alerts and more stories like this by subscribing to our mailing list.