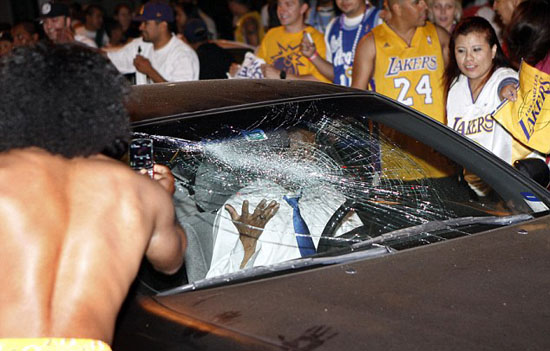 Wow! We'd had to see if they'd lost…
Overzealous Lakers fans wrecked the city of Los Angeles last night after their team took the NBA Championship title from the Boston Celtics in Game 7 of the 2010 NBA Finals. Supporters of the gold and purple team reportedly set cars on fire, threw rocks, bottles & other objects, and smashed in car windows and storefronts following the Lakers' 83-79 victory over the Celtics.
Celebrations outside the Staples Center were initially friendly and posed no immediate threat, but within hours violence and chaos took over for a moment and police had to get to work immediately to diffuse the situation. Cops arrested dozens of people in several locations throughout the city as folks (who were most likely DRUNK outta their minds) got into fights, vandalized cars & buildings, and harassed innocent by-standers & people just driving through the city. A spokeswoman for the LAPD had this to say:
"As the crowds left the area, we had some groups that decided to celebrate irresponsibly. 'It's unfortunate, because you had a great game, and you had a great victory by the Lakers, and unfortunately some people decide that this is how they're going to celebrate. We are doing everything we can, we are making multiple arrests, we have a number of people that have been arrested for vandalism, we have people that have been arrested for inciting to riot, and of course for public drunkenness."
Police declared the scene an "unlawful assembly" as they made arrests last night in an effort to break up the unruly crowd. The LAPD had 5x the number of authorities on the scene compared to last year, when fans also rioted following the Lakers' win, and the final game wasn't even in LA that year! (It was in Orlando). So we're sure they already know to beef up security next year if the Lakers make it to the Finals for the fourth time in a row.
Be the first to receive breaking news alerts and more stories like this by subscribing to our mailing list.