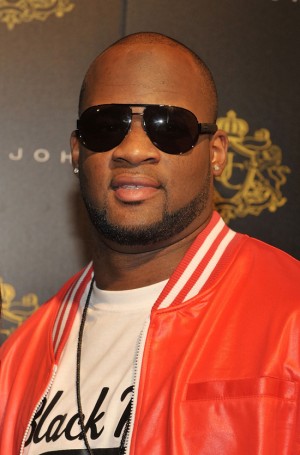 Tennessee Titans QB Vince Young doesn't play when it comes down to his money or his alma mater!
Early Sunday morning (Jun 13), the NFL superstar got into an altercation at a strip club in Dallas, TX. The incident occurred shortly after Young was confronted by the manager of Club Onyx for complaining about paying a surcharge to withdraw his money out of a cash cage.
The manager, later identified as Creiton Kinchen, apparently flashed an upside down "Hook 'em Horns" hand sign and shouted out "F** the Longhorns!" Well, Vince didn't take the insults too kindly and ended up jumping on the guy, almost beating the living hell out of him! Police issued Young a Class C assault citation today (Mon. Jun 14), which could cost him up to $500.
"[Kinchen's comments] obviously made Mr. Young upset. That conversation continues and there was more accusations against the University of Texas which prompted, in this case, Mr. Young to come back into the room where he just about exited." Dallas police Lt. Craig Miller told press.
This guy should have seen this coming a mile away. You don't talk trash about a team to one of their greatest players and not expect an a** whooping!!
Peep the video footage of the incident below:
Be the first to receive breaking news alerts and more stories like this by subscribing to our mailing list.