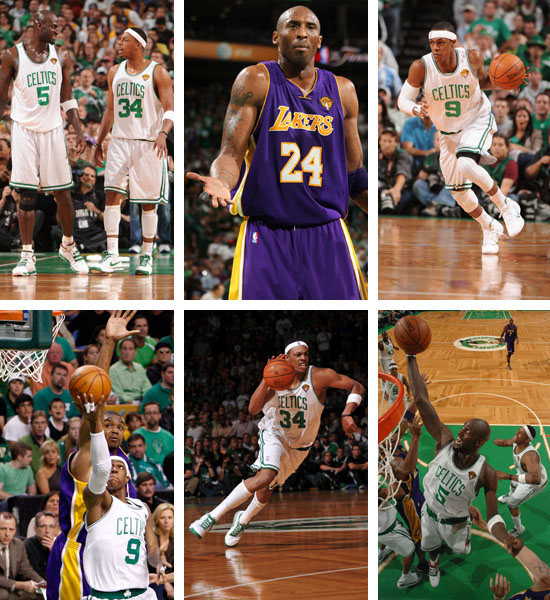 The Boston Celtics outplayed the Los Angeles Lakers in Game 5 Sunday night (Jun 13) on their home court in the TD Bank North Garden. Kobe Bryant was just not enough to win the last game in Boston alone and led them to a loss by 6 (92-86) and the series now stand in Boston's favor (3-2). Bryant managed to score 90% of the points in the 3rd quarter and totaled 38 points, 5 rebounds and 4 assists. Kobe talked briefly about the performance from his teammates after the game:
"Just man up and play. What the hell is the big deal?" he said. "If I have to say something to them, then we don't deserve to be champions. We're down 3-2: Go home, win one game, go into the next one. Simple as that."
The Celtics did just that. Paul Pierce obtained 27 points, Kevin Garnett scored 18 points and 10 rebounds, and Rajon Rondo had 18 points, 8 assists, 5 rebounds. With only one game closer to the championship Pierce explains his excitement to the media:
"It was our biggest game of the year," Pierce said. "We're in a good spot. We have two games in L.A.; now we have to get one."
Games 6 and 7 will be played in Los Angeles at the Staples Center. Game 6 airs Tuesday, June 15th on ABC 9:00PM/ET. Check out the video recap of Game 5 below.
Be the first to receive breaking news alerts and more stories like this by subscribing to our mailing list.