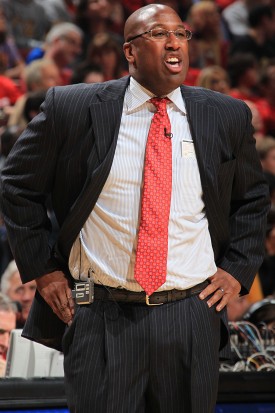 The Cleveland Cavaliers have been receiving a lot of press ever since their sudden loss to the Boston Celtics, which knocked them out of the NBA play-offs. And it's just amazing how the loss of a NBA basketball game could lead to so much turmoil! First, there were the rumors about Delonte West banging Lebron James' mom (the jury is still deciding a verdict on that one), and now Cleveland's head coach Mike Brown has been terminated. Cavs owner Dan Gilbert declined on a decision to keep Brown and pay him his salary of $4.5 million for next season late Sunday night (May 23).
Brown's dismissal comes at such a critical time for the Cavaliers because their superstar Lebron James will soon be a free agent with the option to shop around with other teams. So was this a strategical move? Apparently, but also a very risky one because if Lebron does decide to make the move and opt out of his contract, Cleveland will be left without their star player AND a coach. However according to Gilbert, a risk must be taken in order for the team to progress.
"The expectations of this organization are very high. Although change always carries an element of risk, there are times when that risk must be taken in an attempt to break through to new, higher levels of accomplishment. This is one of those times."
Do you think the Cavaliers made the right decision?
Be the first to receive breaking news alerts and more stories like this by subscribing to our mailing list.