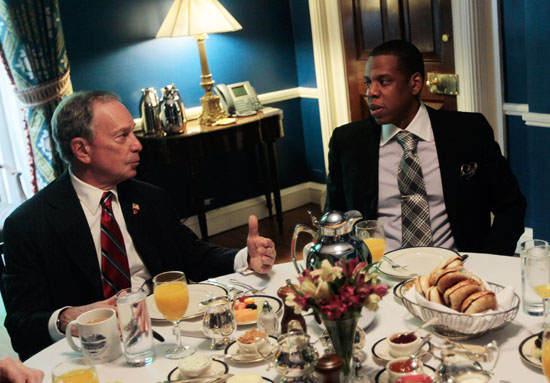 Jay-Z continues to fascinate us with how he manuevers his way into the business world. Wednesday morning, Hovi had breakfast with NYC Mayor Michael Bloomberg and New Jesery Nets Majority Owner Mikhail Prokhorov to discuss business and the Nets' upcoming move to Brooklyn. Prokhorov, who is worth an estimated $15 billion, just purchased an 85% stake in the Nets.
Apparently, Jay has also been taking Mikhail Prokhorov on a personal tour of New York City. The tour included stops at some of the cities hot spots as well Jay's old neighborhood in Brooklyn. The pair even had lunch Tuesday afternoon (May 18) at Jay-Z's 40/40 club to celebrate Mikhail's new purchase.
From what we understand, Jay-Z and Mikhail Prokhorov have become quite good friends. The basketball-loving Russian billionaire said: "Despite the fact that I am very far from the rap music, we have a lot in common. I'm looking forward to hanging out with him."
"A lot in common" to this guy means "He's rich, and I'm rich. We're friends!" But regardless, this is a good look for Hov! Maybe the billionaire will invest in some of Jay-Z's business ventures. He could use some of that billionaire money to get that hotel project (and some of those ohter "on hold" projects) off the ground.
Be the first to receive breaking news alerts and more stories like this by subscribing to our mailing list.