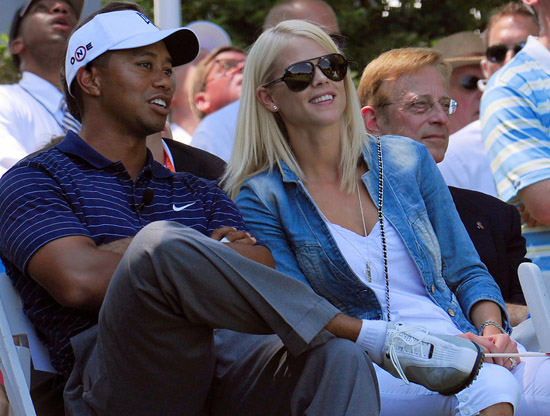 The mood between Tiger Woods and his wife Elin Nordegren has soured so much since all of the sex addition hoopla surfaced that the couple are literally giving each other the "silent treatment." Well, somewhat…
They still communicate to discuss their pending divorce and custody arrangements for the children, but via intermediaries and lawyers. But despite their obvious displeasure with each other, they have managed to keep enough peace in order to protect their children from the beef brewing in their relationship, something that NBA star Dwayne Wade and his wife should model their divorce proceedings after.
Here's what a source told RadarOnline.com about Tiger & Elin's current arrangement with their children's visitations:
"Elin has the nannies take the children back and forth, they've had no conflict over the children but they've also had no contact," the source said. "Elin has made it very clear this is the way she wants it.
As for their silent treatement towards each other:
"They just don't speak anymore," the source said. "Even during the rare times when they see each other in person."
This is sad. We actually thought for a minute that Elin was going to give ol' Tiger another chance. But we guess not! Poor guy…
Be the first to receive breaking news alerts and more stories like this by subscribing to our mailing list.