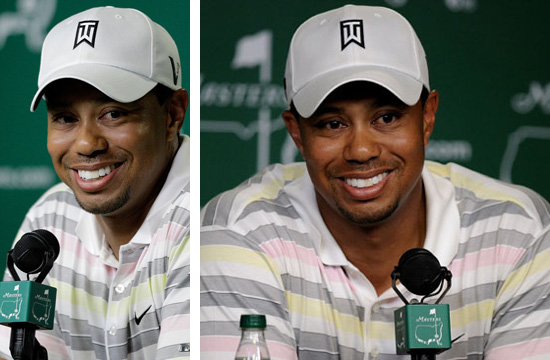 Pro golfer Tiger Woods held a "no holds barred" type press conference yesterday (Mon. Apr 5) in Augusta, GA where the 2010 Masters Tournament will be held. The championship golf player, who has been at the tip-top of the headlines ever since the day after Thanksgiving when he crashed his Escalade into a tree following an apparent dispute between he and his wife Elin, answered questions about the incident that almost cost him his marriage (though the jury is still out on that one) and how his relationship with his family is.
"Having to look at myself in a light I never wanted to look at myself — that was difficult," he said. "How far astray I got from my core fundamentals and core morals my mom and dad taught me. … The other difficult part over the last few months is just the constant harassment to my family. My wife and kids being photographed everywhere they go, being badgered. That's tough on them, because it's very difficult to heal." He also spoke about the pain it caused him to miss his son's first birthday party during a 45-day stint at an in-patient treatment facility. "I acted terribly, poorly, made just terrible decisions that hurt people close to me," he said.

Woods also spoke about how the sex scandal had altered not just his approach to his personal and family life, but his approach to the game of golf as well. "I'm actually going to try and not get as hot when I play," he said. "But then again, when I'm not as hot, I'm not going to be as exuberant either. I can't play one without the other."

That did not mean that his competitive drive had vanished. "Nothing's changed," said the four-time Masters winner. "I'm going to try to go out there and win this thing."

MTV

So what do you think? Is Tiger gonna take home the win and put himself back up on top? We'll just have to wait and see!!
Continue reading to peep video footage from the ENTIRE press conference…
PART 1
PART 2
PART 3
PART 4
Be the first to receive breaking news alerts and more stories like this by subscribing to our mailing list.