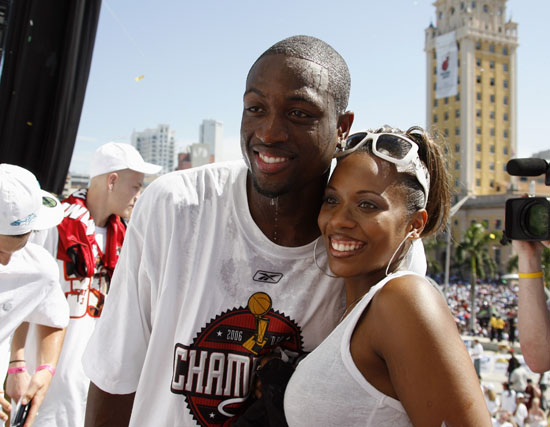 Miami Heat basketball star Dwyane Wade's estranged wife Siohvaughn has responded to his petition requesting sole custody of their two children. She believes that the filings are retaliation for her asking for an order of protection last month. Early last week, Dwyane filed for custody of he and Siohvaughn's two sons, ages 8 and 12, and he also asked that his wife be psychologically evaluated.
"Our client believes that these various papers were filed as retaliation for her legitimate claims filed March 19, 2010 in the Domestic Relations Court in a Petition for Order of Protection regarding the abuse by Mr. Wade dating back to 2006," Eunice Ward, an attorney in the Chicago firm representing Siohvaughn Wade, said Thursday in an e-mail response to The Associated Press.

Siohvaughn Wade has previously alleged that her husband abandoned his children, that they were frightened to be around him, and that he was "guilty of extreme and repeated mental cruelty" toward her.
Part of Dwyane Wade's filings earlier this week include that his wife is participating in "alternative avenues of worship that are completely outside of the status quo" when it comes to how the children were to be raised. The filings also allege that when Dwyane Wade's sister Tragil went to Siohvaughn Wade's Illinois home to pick up the boys for a visit, Siohvaughn Wade and some of her friends circled her and prayed for her salvation.

"It is regrettable that this father now chooses to use mental health and religion as another means to battle and abuse the mother," Ward said in the e-mail statement.

Other documents show Wade alleges his wife Siohvaughn cannot "be considered a fit and proper person" to raise their children. The MVP of this year's All-Star game says his wife exhibited threatening behavior, had extramarital affairs, uses abusive parenting methods and is unwilling to let the 2006 NBA finals MVP see his children — plus blocked the older of their sons from attending this year's All-Star festivities.

YAHOO/AP

Be the first to receive breaking news alerts and more stories like this by subscribing to our mailing list.