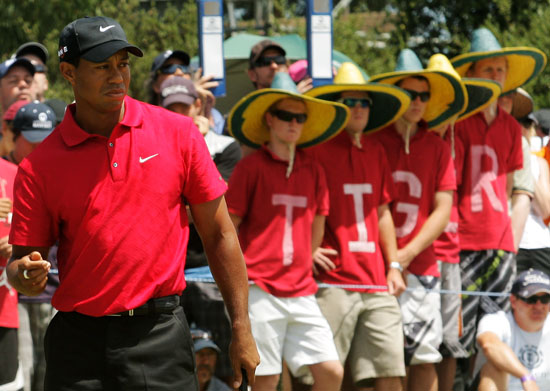 Billionaire golfer Tiger Woods recently shot a Nike commercial in his own backyard, reports TMZ.
Sources say Tiger — who was wearing his trademark black and red during at least part of the shoot — shot the commercial on the Isleworth Country Club golf course in his neighborhood in Windermere, Florida Thursday morning. We're told a Tiger stand-in was used Wednesday to set up the shots. As for the shoot, we're told Tiger got in and out very quickly
Well, at least Nike still likes Tiger "Cheetah" Woods and didn't drop him like a bad habit, unlike some of his other "sponsors" …
Meanwhile, one of Tiger's new golf courses in Asheville, N.C., designed by his company Tiger Woods Design, is having some issues with completion. Called "The Cliffs at High Carolina," the course, designed by Woods and his company, will be 7,300 yards and nearly 4,000 feet above sea level with prime views of the beautiful Blue Ridge Mountains. Developers also plan to build up to 1,200 homes, a spa and other amenities. But slow construction and weak sales have caused plans to be pushed back a couple of years. Click here to read more about that…
Be the first to receive breaking news alerts and more stories like this by subscribing to our mailing list.