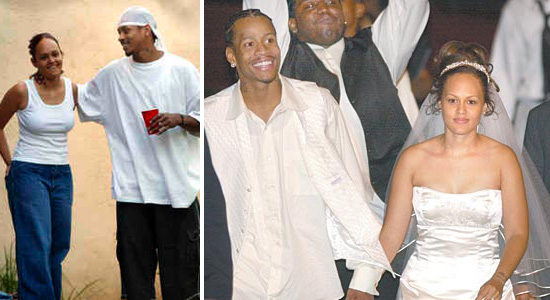 Basketball player Allen Iverson's wife Tawanna filed for divorce against the Philadelphia 76ers star to end their 8 and a half year marriage this past Tuesday (Mar 2), not too long after the 34-year-old NBA champ announced he would be taking a leave from the game of basketball to tend to his sick daughter.
In the petition, Tawanna asks for temporary and permanent custody of their five children, aged 17 months to 15-years-old, as well as child support and alimony, though she did not ask for a specific dollar amount. AI and his family have lived in north Atlanta since last August, according to papers in the court filing, which also noted that the family of 7 claimed homes in Rochester, MI; Englewood (Denver), CO; and Villanova, PA.
A little over a week prior to the day the divorce petition was filed, Allen and the 76ers announced that he would be leaving the team indefinitely for "personal matters." He later confirmed via his Twitter that he wanted to stay at home in Atlanta to be with his 4-year-old daughter Messiah, who had an undisclosed illness.
"I need to be there to hold my little girl's hand and encourage her to get better. I wanted her to wake up every morning and see her Daddy's face, at least until she got better. Through God's Strength, She Will Keep Getting Better!"
Before the announcement was made, Iverson had already missed five games with the Sixers, along the big 2010 All-Star Game in Texas, so that he could be with his family. And shortly after the papers for the divorce were filed, Iverson's team said that he would not be returning at all this season:
"After discussing the situation with Allen, we have come to the conclusion that he will not return to the Sixers for the remainder of the season, as he no longer wishes to be a distraction to the organization and teammates that he loves very deeply," 76ers general manager Ed Stefanski said. "It has been very difficult for Allen and the team to maintain any consistency as he tries to balance his career with his personal life."
Be the first to receive breaking news alerts and more stories like this by subscribing to our mailing list.