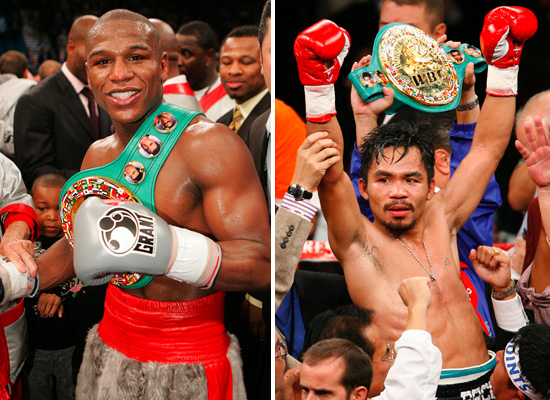 Earlier, we told you guys about the mega fight between Floyd Mayweather and Manny Pacquiao being called off. Well that may not be the case quite yet. Mayweather released a statement basically saying that he is ready to sign the contract, among other things.
"Throughout this whole process I have remained patient, but at this point I am thoroughly disgusted that Pacquiao and his representatives are trying to blame me for the fight not happening when clearly the blame is on them. First and foremost, not only do I want to fight Manny Pacquiao, I want to whip his punk ass."
He went on to talk about the issue with Pacquiao's team:
"Before the mediation, my team proposed a 14-day, no blood testing window leading up to the fight.  But it was rejected.  I am still proposing the 14-day window but he is still unwilling to agree to it, even though this is obviously a fair compromise on my part as I wanted the testing to be up until the fight and he wanted a 30-day cut-off.   The truth is he just doesn't want to take the tests."
We want to believe Mayweather … we really do! But we really don't know who is telling the truth. Who's being truthful in all of this and who's lying? Well look at what Mayweather had to say about that:
"I know the people will see through their smokescreens and lies.  I am ready to fight and sign the contract. Manny needs to stop making his excuses, step up and fight."
Be the first to receive breaking news alerts and more stories like this by subscribing to our mailing list.