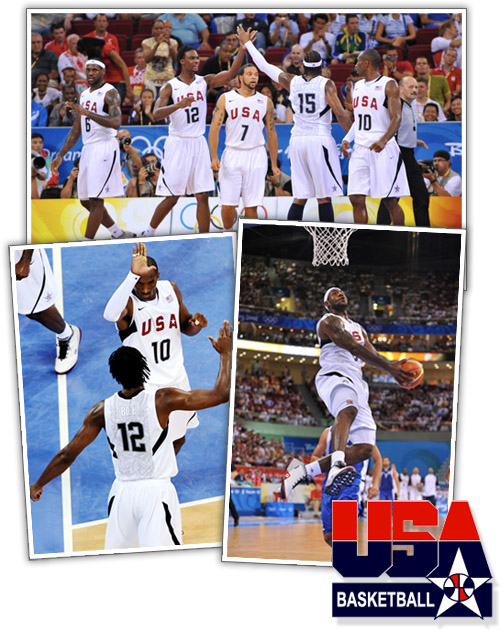 PHOTOS: GETTY IMAGES
The red, white and blue is the last standing colors once again! The Senior Men's Basketball Team of USA has been progressing more and more every game and making their statement on where they stand in this competition. Two years ago, this accomplish of Team USA seems unreachable but the tables have definitely turned. USA overthrew Greece by 23 points (92-69) and is digging closer to the gold! Dwyane Wade finished with 17 points and felt their teamwork is the major difference between the past few olympic games:
"We played like we wanted to win. We played together," Dwyane Wade said. "We were very aware of their offensive sets, we were very aware of their personnel and we played like that. So we were kind of a step in front of what they wanted to do because we kind of knew everything already."
Kobe Bryant has significantly improved since the past few games despite the wins who was only shooting 37% to a 50%. K.B. added 18 points to the scoreboard. Team USA is still remains undefeated with (3-0). LeBron James put 13 points while Chris Bosh shot 18 points. Bosh has been pushing defensively and offensively as a well-rounded player in the lineup. He's also very determined not to lose:
"Any time you get beat it's embarrassing and that's enough," Bosh said. "And we can really use that as a tool to help us with our defense now, and that's the name of the game. Because if you play good defense, no matter how you're shooting the ball you're going to be in the game."
Team USA is in a very good position and it looks like one of the easiest Olympics for us in awhile. It's looking swell for Team USA! The next game will be against Spain on Aug. 16th @ 10:15AM/ET on ESPN. Check your local listing for times. Check out the video recap below!
Be the first to receive breaking news alerts and more stories like this by subscribing to our mailing list.