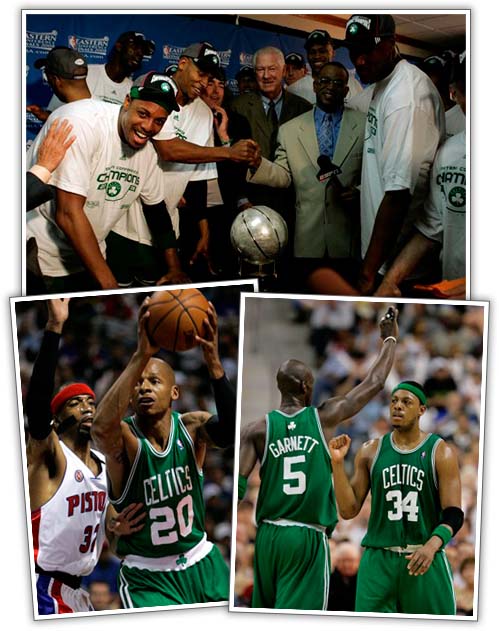 The Boston Celtics won their final game against the Detroit Pistons and now are heading to the finals to face the Lakers. The Celtics won by 8 in Game 6 in Detroit (89-81). Boston won took 4 games out the 6 to reign the title as Eastern Conference Champs. (4-2). Paul Pierce scored 27 points, 8 rebounds and 3 assists. Kevin Garnett had 16 rebounds, 6 rebounds and 4 assists. Ray Allen put up 17 points, 6 rebounds and 2 assists. K.G. was excited about the win but he was exhausted from playing Detroit so hard. He responded after Game 6:
"It's kind of surreal," Garnett said. "Probably hasn't even hit me yet because we haven't slept in about four days, going on five days now. Going to the Finals, I'm just hoping to get some sleep."
The Pistons couldn't come out and win at home but there's always next year. Sorry Pistons Fans but don't worry the Lakers will come and revenge you. Chauncey Billups totaled 29 points, 6 rebounds and 6 assists for the Pistons. Richard Hamilton put up 21 points, 4 assists and 2 rebounds. Billups talked about the sudden loss last night:
"This is really tough, Billups said, we had it, and we didn't get over the hump."
The Celtics will play Game 1: Lakers Thursday (June 5th) @ 9PM on ABC. Don't forget to tune in to the NBA Finals!!! Check out video reactions below.
Be the first to receive breaking news alerts and more stories like this by subscribing to our mailing list.