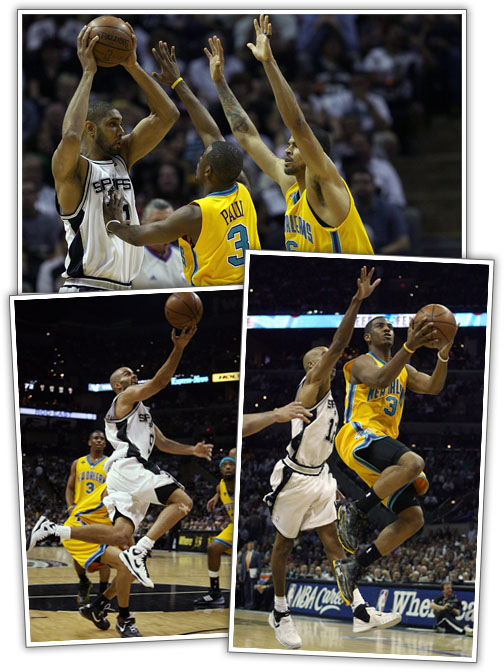 The San Antonio Spurs finally win a game against the New Orleans Hornets but the Hornets still lead the series (2-1). The Spurs win by 11 last night and take the victory of Game 3 (110-99). Tony Parker did not want to lose 3 games in a row to the Hornets so he stepped up his game a little bit. Parker totaled 31 points, 11 assists and 4 rebounds. Manu Ginobili also scored 31 points, 6 assists and 4 rebounds. Ginobili said after the victory last night:
"We know that going 3-0 — it's never been done to come back like that," said Ginobili, "Today, for us, it was a Game 7. We knew if we didn't win today, it was almost over. So we had a different approach. We played with more passion, more edge."
 
Although the Spurs won Game 3 the Hornets are still leading the series. Chris Paul still seem as unstoppable as they won the game themselves. Paul had a whopping 35 points, 9 assists and 2 rebounds. David West had 23 points and 12 rebounds. Chris Paul talked about Game 3 loss and said:
"They made a lot more shots," Paul said. "We got away from our defensive game plan somewhat. We didn't defend as well as we did the first two games."
 In order to win these series Chris Paul will have to go harder in the next away game against the Spurs.
Game 4 airs Sunday (May 11) @ 8 on TNT.
Be the first to receive breaking news alerts and more stories like this by subscribing to our mailing list.