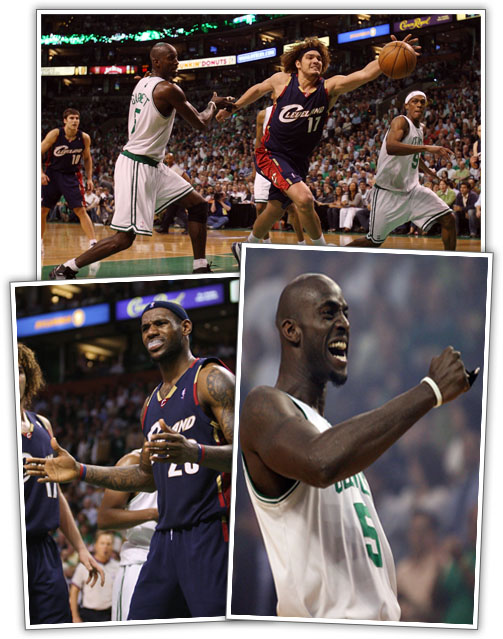 (Photos: Getty Images) The Boston Celtics win again against the Cleveland Cavaliers. That's two in a row (2-0). Beating the Cavs by 16, the final score was (89-73). It's kind of surprising LeBron James hasn't been shutting it down but these games can go either way. Kevin Garnett was on his game tonight and did not let up. K.G. scored 13 points, 12 rebounds, and 4 assists. Paul Pierce was even shocked to see that King James wasn't beating them! Here's what Pierce had to say:
"I'm a little shocked that he's 8-for-42, but this is what we work on. We work on trying to contain him," said Pierce, "LeBron is what makes them go. And if we can somehow control him, we control their team. And with the help of the guys around me, we've been able to do that."
Ray Allen scored 16 points and 3 assists. Paul Pierce scored a total of 19 points, 6 rebounds, and 2 assists. I guess they are kind of succeeding in this theory cause it's not looking to good for the Cavs. LeBron can even admit this himself. LeBron said after the game:
"Being down 0-2, that's a tough hole to dig yourself out of. James said, "But if we want to win the series we've got to do it,"
LeBron had 21 points, 6 assists, and 5 rebounds. Zydrunas Ilgauskas put up 19 points and 5 rebounds.
Will the Cavs make a comeback in Game 3? I guess we'll see…
Tune in to Game 3 which airs Saturday (May 10) @ 8 on local channel ABC.

Be the first to receive breaking news alerts and more stories like this by subscribing to our mailing list.