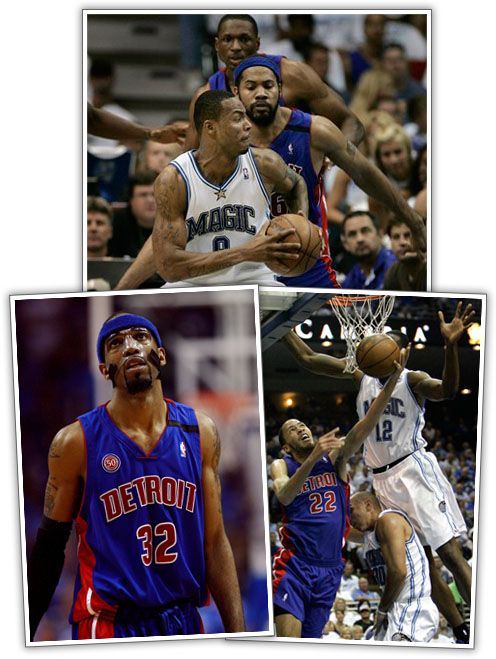 (Photos: Getty Images) The Orlando Magic was determined to make a comeback and they did more than ever in last night's game against the Detroit Pistons. Last night in Orlando, Rashard Lewis was on fire. Lewis scored 33 points, 6 rebounds and 5 assists. Dwight Howard had 20 points and 12 rebounds. Orlando took the win by 25 points (111-86) but the Pistons still lead the series by 1 (2-1). Lewis stated at halftime:
"I made my first couple and really felt like I was going to have it going tonight," said Lewis, who came to the Magic in a trade with Seattle. "I know my 3 ball hasn't been falling this whole series.

"Detroit's obviously been a team that's been beating us the past couple of years," Lewis said. "The main focus is we don't want to dig ourselves too deep of a hole. We want to try to win our home games, take the series back to Detroit 2-2."
Richard Hamilton scored a total of 24 points, 6 rebounds, 3 assists for the Pistons. Tayshaun Prince had 22 points, 7 rebounds and 3 assists. Unfortunately, Chauncey Billups was injured in the first 4 minutes of the game. Pistons coach Flip Saunders is worried about the loss at home and fears that the Pistons' are in jeopardy of losing the series:
"I'm concerned because [Billups is] our quarterback; he runs our team," Pistons coach Flip Saunders said. "You saw our first two games. He's been a huge part of why we've been successful — that matchup has been huge for us."
They still have more than enough chances to redeem their streak in Game 4.
Game 4 airs Saturday (May 10) @ 5 on ESPN.
Be the first to receive breaking news alerts and more stories like this by subscribing to our mailing list.