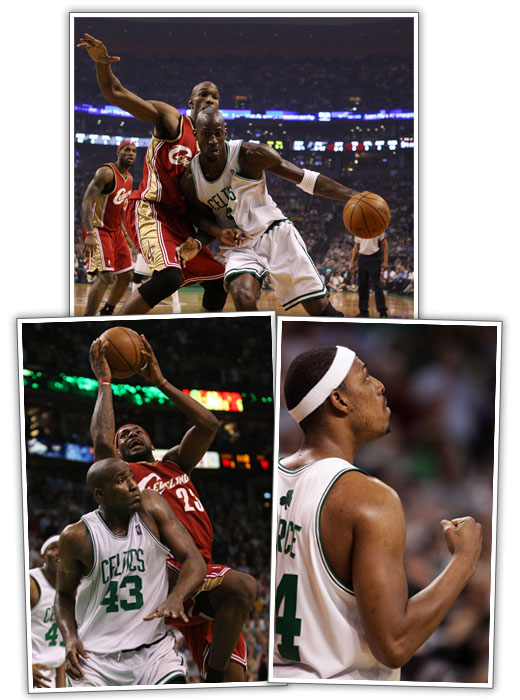 (Photos: Getty Images) The Boston Celtics won the first game of the series against the Cleveland Cavaliers. I feel that the game was rigged because LeBron definitely didn't get the foul calls he deserved during the 24.8 seconds in the final quarter. But all in all the Celtics still took the victory last night by only 5 points (76-72). Kevin Garrett scored 28 points, 8 rebounds, and 3 assists. Rajon Rondo totaled 15 points, 6 assists and 5 rebounds. Paul Pierce had 4 points…4 rebounds, and 5 rebounds. K.G. had comments after this close game last night. He responded:
"This was two heavyweights, just body-punching," Garnett said "There was no finesse, no jabs, just an all-out, beat-down, defensive fight."
LeBron James missed a lot of shots last game and didn't average points you would expect LeBron to have. King James only totaled 12 points, 9 assists, 9 rebounds. Zydrunas Ilgauskas pulled up 22 points and 12 rebounds for the Cavs last night. If James made more points they would've definitely won Game 1 last night. LeBron had something to say about the missed shot last night as well:
"I missed a lot of shots I know I can make," James said, staring at the stat sheet. "I missed layups. Those layups I've made my whole life."
This series has just begun and it's not near over with. Game 2 airs Thursday (May 8) @ 7 on ESPN.
Be the first to receive breaking news alerts and more stories like this by subscribing to our mailing list.