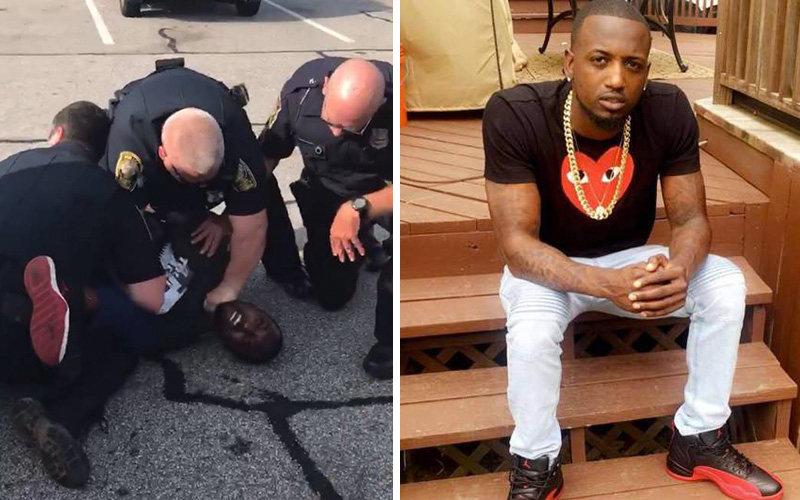 Video footage showing former college and pro football player Desmond Marrow being slammed to the ground onto his face in a parking lot while being arrested by Georgia police officers has gone viral on social media.
Marrow, who played for the University of Toledo and was briefly in the NFL shared the video on Instagram and Facebook Thursday afternoon (Apr. 26), saying that he was injured during the incident in Henry County, Georgia. He said that he "only had [his] cell phone in [his] possession" and the police "claimed to be scared for their lives." He added, "I had no type of weapon in my possession, I was arrested for having a gun that turned out to be my cell phone."
According to court documents, the arrest took place in McDonough, Georgia (a city in Henry county part of Atlanta metro) on December 2, 2017 in the parking lot of a Target store on Jonesboro Road. Records show that Marrow, 30, was charged with making terroristic threats, reckless driving, aggressive driving, and obstruction. The court documents state that police were investigating an alleged road rage incident involving Marrow when the arrest occurred. Dispatchers had told police that there was a "physical altercation," though police don't provide any evidence that a "physical altercation" ever occurred.
The minute-long video clip, recorded by a bystander, shows two officers holding Marrow by the arms while he is being handcuffed. You can see him walking towards the back of a pickup truck and officers push him against it. "I'm not even fighting back!" Marrow yells as one of the cops lifts his leg up and slams him to the ground onto his face. Marrow can then be heard shouting, "I didn't even do nothing to y'all!" as the three officers kneel over him and the cameraman says, "This is unbelievable."
As one officer puts his hands near Marrow's neck, he yells repeatedly, "I can't breathe!" while another officer tells him to calm down before the officer holding his neck takes his hand away. The officers then lift Marrow up to his feet just as the video ends. The footage doesn't show what caused the police to act so aggressively.
WATCH THE VIDEO HERE:
Marrow said he was arrested on felony charges, but didn't provide any other details about the incident. You can read his full IG post below:
***ATTENTION*** to anyone who views this post , PLEASE HELP ME GET MY VOICE HEARD!!! I Was Falsely Arrested & taken into custody in #Atlanta #Georgia #HenryCounty by the Henry County Police . I Only Had My Cell Phone in my possession & they claimed to be scared for their lives . I had No type of weapon in my possession , I was arrested for having a Gun that turned out to be my Cell Phone . During the arrest the police knocked my teeth out, slammed me on my head and choked me out until I was unconscious. In addition I suffered a shoulder strain and a concussion along with the heartache of my Wife leaving me during this Very Hard time for my short comings and careless actions. This has affected me mentally and impacted my life in a way I can't even humanly describe . This isn't a cry for sympathy, I just need it to be known . . . My cry is for JUSTICE.

They threw me into isolation and labeled me a gang member because of my tattoos. I was fully cooperating with the officers with ZERO resistance. I thought I was going to die. I was sure I was passing out or dying when Officer #D.Rose was choking me as my breath kept slipping away. Henry county police dept was trying to keep me quiet, but once they found out I was a former #NFLplayer & there was a video of the incident did they then try to drop my charges. They were basically trying to get me to sell my soul in exchange for the video not being posted and they would drop all the felonies and clear my record. They said I was resisting arrest, being out of control, spitting and assaulting the Officers by head butting them. But GOD recorded it and I have PROOF! You know the truth take a lil longer to make it around lies travel faster ?. They locked me up & gave me No bond which gave me NO voice YOU guys are my voice I NEED your help . I been sleepin on the floor I can't get a job with these #Felonies I lost my gym all my clients & training kids is my passion that's ALL I wana do I can't pay my child support I would love to see my son I'd take any type of love Bruh it's real right now
Officer David Rose wrote in his report that when he arrived at the Target parking lot, he asked Marrow who had been fighting and if he had swung at anyone. Marrow denied that there had been an altercation and also denied that there had been a fight, Rose wrote. Officer Rose said Marrow "was clearly agitated and was speaking very loudly and using profanity. He loudly used the word 'fuck' several times and I had to tell him to stop."
Rose said Marrow responded by saying the officer "had no right to tell him what to say." Rose wrote that he told Marrow "using profanity in that manner would not be tolerated." Rose said at that point, a witness informed him that he had heard Marrow threaten to shoot another person during a dispute. Rose asked Marrow if he possessed any weapons, and Marrow told him he did not. According to the report, Rose searched Marrow and did not find any weapons.
Marrow then reportedly told the officer he was driving on I-75 when a white male passenger in a dark-colored sedan threw a cup of coffee at his car. Marrow said he chased after the car because he wanted to talk to them about what they had done. Rose then told Marrow that he had seen him driving aggressively as he turned onto Jonesboro Rd. and Marrow said "that's a fact," Rose said, adding that Marrow told him he was wrong for chasing the car and admitted that he shouldn't have done that.
The witness told Officer Rose that he had seen a vehicle, which Rose believed was Marrow's, block in a dark sedan on Jonesboro Rd. The witness told Rose he saw Marrow get out and throw something at the dark sedan and the sedan drove over a curb to get away. He said the truck, allegedly driven by Marrow, then chased the sedan into Target's parking lot.
After speaking to the witness and other officers, Rose said he made the decision to arrest Marrow. Rose described what he says happened next in his report:
I told Marrow that he was under arrest and told him to put his hands behind his back. He refused. At that point I pointed my taser at Marrow. I told him that he would be tased if he continued. Officer (Matthew) Donaldson and I then managed to get cuffs on him without me having to tase him. My taser was then put back into its holster. We attempted to search Marrow incident to his arrest. He was instructed to spread his feet apart to enable us to safely search him. He refused to spread his feet and he refused to comply with our verbal commands to do so. Officer Donaldson attempted to spread his feet and Marrow attempted to kick him. Marrow was also attempting to push himself away from the car he was standing beside. Marrow then kicked me with his left foot against my left.

Because he was struggling we attempted to put Marrow on the ground. He fought against this. He was attempting to turn away from my grip on him and was attempting to strike me with his left elbow. After several seconds of struggling he was put on the ground. Even so, he was still not complying with instructions to lay on the ground on his chest. I had to hold him on the ground as we repositioned ourselves. I had my left hand on the side of his shoulder but was still not able to keep him down. I told Marrow several times to stay on the ground and stop kicking. I was attempting to keep him from kicking Officer Donaldson or head-butting me as it appeared to me that he was attempting to do that.
Rose wrote that he then put his hand on the side of Marrow's head and neck "in an effort to better keep him on the ground." Rose said he instructed Marrow to lay on his chest, but he says Marrow was "still struggling" and "rolled over onto his back." Rose said, "At that point my hand was on the front of his neck, still in an effort to hold him down to prevent him from head-butting me. Marrow shouted several times that he was not able to breathe, but he was shouting, he was clearly breathing."
Rose said Marrow "closed his eyes for a second or so as if he was passed out." Rose said he then held Marrow down for a few more seconds before pulling him up and taking him to his patrol car. Marrow "resisted getting into my car," Rose said, but he was eventually able to get him inside. Rose said Marrow complained of a head injury and medics were called, however, Marrow refused treatment. Rose said when Marrow was in the patrol car, he "laid his head against the door frame and closed his eyes as if he was passed out for a second or two."
Rose wrote in his report that when Marrow got to the jail, he told them he had a head injury and spoke to the jail nurse about his "sideline injury." He also said his left knee and left shoulder were injured and jail staff refused to book him, Rose wrote. Marrow was then taken to Piedmont Henry Hospital, where he was treated and released by hospital staff, Rose said in his report. Rose said that Marrow received a CT scan and, at one point, "fell out of the wheelchair he was placed in by hospital staff."
You can read the police report in its entirety below:
Marrow shared photos of his injuries, which you can view below:
Marrow, a defensive back, played football for the University of Toledo between 2006 and 2011 and graduated with a communication degree, according to the school's website. He was placed on the pre-season rosters for the Houston Texans and Tampa Bay Buccaneers, but he never made the regular season roster nor did he appear in an NFL game. Marrow was also briefly signed by the Edmonton Eskimos of the Canadian Football League (CFL), but didn't play a game for them either. Following the end of his football career, Marrow became a fitness instructor and opened a gym in Youngstown, Ohio.
As a result of the incident, Marrow started a GoFundMe campaign he titled "Justice for Des Marrow," which has so far raised $5,200 of his $15,000 goal. He wrote on the fundraiser site: "I am raising money to help pay for my doctors bills and expenses and to help rebuild a facility to train the hundreds of kids I have lost becuase [sic] of this traumatic event."
The video showing Marrow's arrest has attracted the attention of activists on social media. Shaun King shared the video on Twitter, writing, "He was cooperating. They then slammed him to the ground, knocked out his teeth, and began choking him until he passes out. This is former NFL player and personal trainer Desmond Marrow."
Qasim Rashid wrote on Twitter: "This is police work? Or how slave catchers would beat down the enslaved? As he begs for mercy, Cops handcuff him, slam him to the car, then the ground, knock out his teeth, choke him—THEN ask 'you ok?' Former NFL player Desmond Marrow #BlackLivesMatter"
Maejor Page, President of Black Lives Matter of Greater Atlanta, released a statement, saying, "I am utterly disgusted in how HCPD handled this black man, this player did nothing that warranted him slammed, being man-handled and chocked out, especially while handcuffed. But this is why Colin Kaepernick first took a knee, and now to have a player saying this happened to her. We want the NFL to publicly speak out and denounce police brutality. BLMGA will aggressively and zealously defend our victim."
Eric Prologo, a family member of Marrow's, wrote on Twitter: "Yo that's my cousin his name is Desmond Marrow thank you for spreading the word this is crazy he worked real hard to get his own business going as a personal trainer and lost it all because of this bullshit they said his phone was a gun so now he has felony charges on him."
One of Marrow's former professors, John Eidemiller, who works at the University of Toledo, tweeted, "Des was one of my students at UT. Good guy. Was always very easy to get along with. I don't know the circumstances of this incident, but it doesn't seem like him. My heart goes out to him."
Dee Drummond, Another professor at UT, wrote in response to Eidemiller's tweet, "I agree John- remember Desmond well. This video is horrific to watch- I can't imagine it took that type of physical behavior to detain one person- sickening."