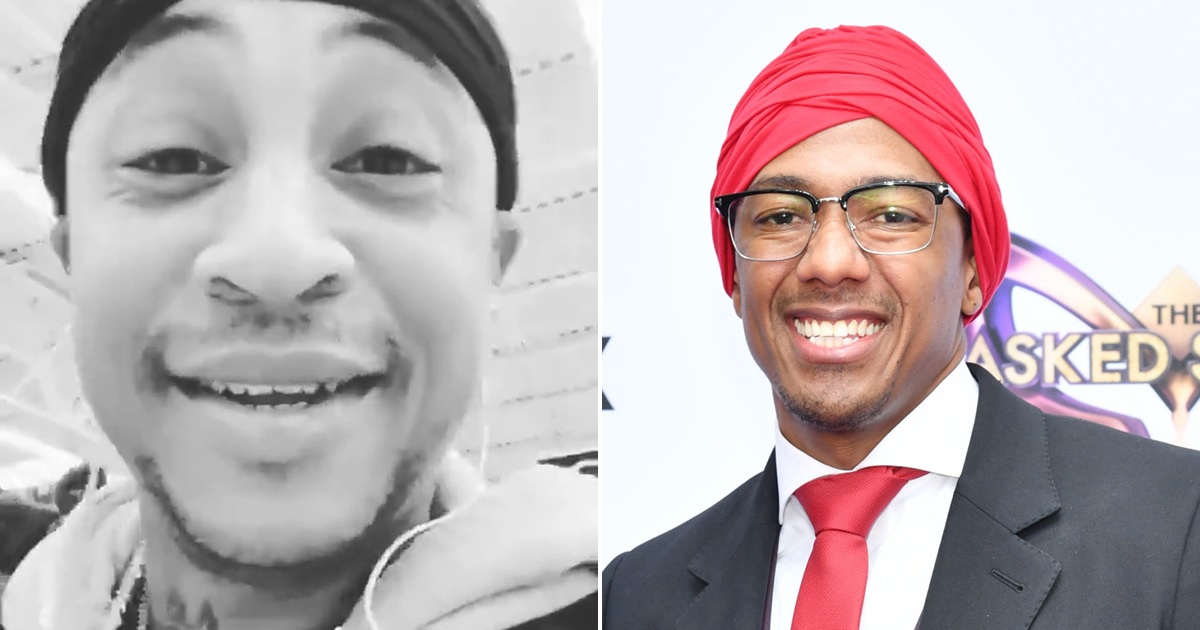 UPDATE: Nick Cannon has responded to Orlando Brown's outlandish statement via a lengthy Instagram post.
Cannon said when he first caught wind Brown's comments, he thought it was "f**king hilarious!!!!" But once he took everything in, he thought this whole situation could be used as a "great opportunity for a 'teachable moment'"
Cannon continued:
"First off let me say I am praying for the young brother Orlando even though I don't really know him personally, I have always loved and enjoyed his talent and have been a fan of his past work.

"He was f**king brilliant in Major Payne, and had us all laughing on 'Thats So Raven.' But this is another crucial example of when we allow our young artists to be prematurely exposed by this demonic business and left out to fend for themselves. We need better support systems for our youth and take care of our own."
Read Nick Cannon's full IG post here:
https://www.instagram.com/p/B7oxGcKhvRs/
---
Original story below:
Whenever Orlando Brown resurfaces nowadays, you know it's for some wild-n-out mess. And this time is no different.
A video of Brown went viral on Wednesday (Jan. 22). In the black and white self-recorded clip, the former child star claims that Nick Cannon once gave him oral sex!
"Fine, you want me to tell everybody? You want me to let everybody know? Okay, fine," Brown teased before making the claim.
"Nick, I let you suck my d*ck. I let Nick suck my d*ck and I liked it; it was fine."
"Everybody knows you did it as a female. But, Nick you sucked my d*ck. Nick been sucking d*ck," he said as he giggled and laughed.
It's unclear what prompted Brown to make this unfounded claim. Brown and the Wild 'n Out host were both child performers in the 90s and early 2000s, so the two may have crossed paths or ran in the same circle.
However, there's just no proof that a sexual encounter ever occurred, and let's just be honest … Orlando's elevator hasn't gone to the top in some time now.
Twitter, of course, did not pass up the opportunity to clown Brown (and Cannon) once the video went viral.
Nobody

Absolutely no f***king Soul

Orlando Brown yea Nick Cannon sucked my D*ck

Everybody pic.twitter.com/MSAFK4eluG

— DKT (@darleneturner53) January 22, 2020
Nick Cannon: what u trynna do?
Orlando Brown: pic.twitter.com/Fw4jDpMvOk

— James (@ExcuseMe_Xav) January 22, 2020
So you mean to tell me Orlando Brown is saying Nick Cannon did this to him? ?? dude is funny lol pic.twitter.com/7WkTZ1wpJ2

— Shawn (@BoredmanShawn) January 22, 2020
I'm sorry…..I am not beliving that Nick Cannon sucked Orlando Brown's musty, dusty coke dick back in the day. No Mam. pic.twitter.com/oEfiJ1wWZj

— Matty Rants (@themattyrants) January 22, 2020
Nick when he has to stop recording his 13 eminem diss to address what Orlando brown said… pic.twitter.com/ceuMngowtr

— Big Girl Slay ? (@Biggirlslay) January 22, 2020
Orlando Brown really said that Nick Cannon sucked his… WTF pic.twitter.com/BE3XeKCSYK

— Mercedes Howard (@hilarybanksxo) January 22, 2020
Orlando Brown picked Walmart to make this announcement? ?? pic.twitter.com/53uG9dFmdh

— Kirsten ? (@KirryDragon) January 22, 2020
Is Orlando Brown really mentally unstable ? Or is he a cornball pretending to be mentally unstable?

— Wayno (@Wayno119) January 22, 2020
Saw Orlando Brown trending and thought he was finally getting his life together pic.twitter.com/N2UXH4JeQN

— Michiko????? (@therealkrissy2) January 22, 2020
If Nick Cannon don't make a diss track against Orlando Brown denying this accusation than…you know what's up. #NickCannon pic.twitter.com/Sr1zZ9NxE5

— Eminemzminnie ???? (@eminemzminnie) January 22, 2020
Over the past few years, Brown has exhibited bizarre behavior and has had several run-ins with the cops, often involving drugs.
He even once claimed he and former That's So Raven co-star, Raven-Symone had a sexual relationship and she aborted his child.
Back in 2018, Brown appeared on Dr. Phil and openly discussed his struggles with mental illness, drugs, and homelessness.
Cannon has not commented on Brown's claim. However, it does come just one month after he made a similar allegation in his Eminem diss track, "The Invitation," toward the Detroit rapper.
"I heard your chauffeur got a video of you sucking a cock," Cannon raps. "You paid him off then laid him off/Now who really the opps."
Be the first to receive breaking news alerts and more stories like this by subscribing to our mailing list.