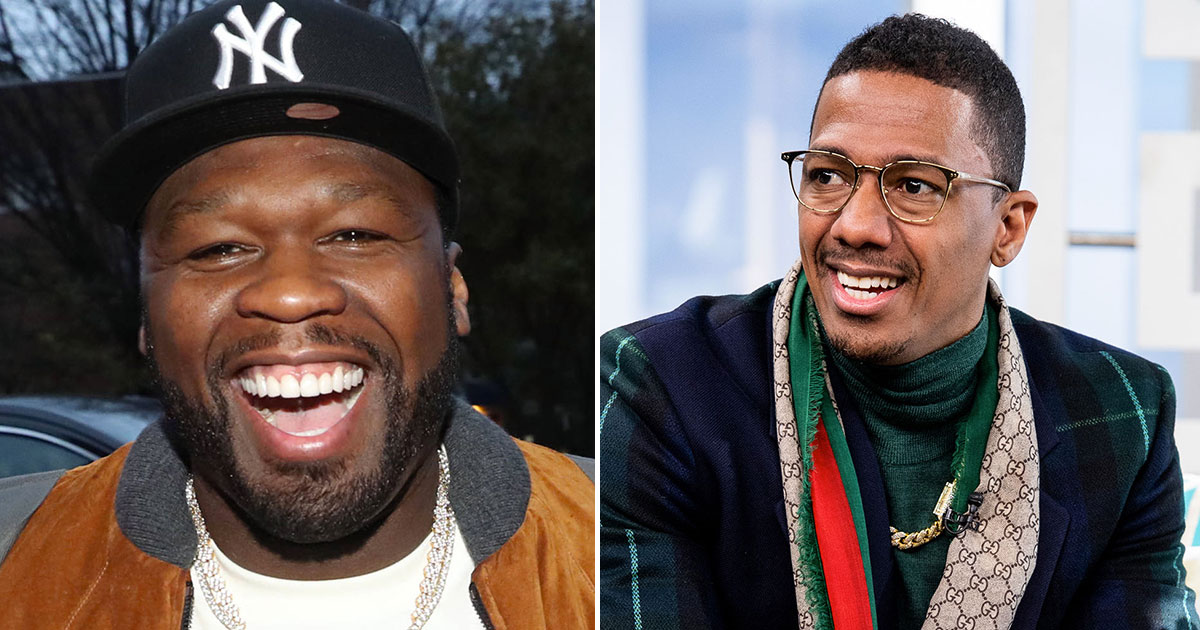 Nick Cannon and Eminem have been going at it ever since Eminem rehashed their longstanding beef by bringing up Mariah Carey's name in Fat Joe's new song "Lord Above."
Em rapped on the song:
"I know me and Mariah didn't end on a high note / But that other dude's whipped — that p***y got him neutered. Tried to tell him this chick's a nut job before he got his jewels clipped / Almost got my caboose kicked / Fool, quit/ You not gonna do shit / I let her chop my balls off too before I lose to you, Nick."
Of course, Nick Cannon didn't take those words lightly, so he fired back with a diss track called "The Invitation," featuring a brief appearance from Suge Knight, who opens the track saying "You know I don't do no talking, but Nick is family" and calling Eminem a "bitch."
Nick then raps:
"Call Kim, somebody get Hailey and that other kid you raising that ain't even your baby. Took a page out of Drake book, this might get a Grammy / We going back to back until you respond—on the family / My baby mama killed you off a decade ago / You still crying about it bitch, now who really the hoe?"
Twitter responded to Nick Cannon's diss track accordingly, sparking the trending hashtag #ripnickannon.
Eminem is gonna fuck around and diss Nick Cannon over the "All I Want For Xmas" instrumental ????#ripnickcannon pic.twitter.com/HVINvgykAz

— the guy who draws Oswald (@EricEpoteArt) December 10, 2019
*Nick Cannon releases Eminem diss track*

The human population: #ripnickcannon pic.twitter.com/6F71u9bOEK

— Stephen Geiger (@Stephen_Geiger) December 10, 2019
I saw #ripnickcannon and was like damn another one but Eminem is just going to whoop his ass? pic.twitter.com/x02XE6pf5T

— Kobi Lu? (@korshon95) December 10, 2019
A rare pic of me listening to Nick's diss track#ripnickcannon pic.twitter.com/hMZN5Y7QKZ

— Fer Rouq (@SocialOutcast47) December 10, 2019
Lmaooo look at the number of dislikes #ripnickcannon pic.twitter.com/sFYYBFLAUu

— EMIN?M HUB (@Shadyinfo) December 10, 2019
Nick Cannon's comment section after he tried to diss Eminem has me cracking up. ??? pic.twitter.com/ZnCccpVUVN

— Philip DeFranco (@PhillyD) December 9, 2019
I actually thought Nick Cannon died, y'all do too much #ripnickcannon

— Guy Caldwell (@guy_caldwell3) December 10, 2019
Taking note of the back-and-forth between Em and Nick, 50 Cent questioned why anyone with good sense in their heads would even attempt to go at someone as lyrically proficient as Eminem.
50 Cent aka the King of Trolls wrote on Instagram:
"I don't understand to save my life why someone would pick a fight with EM. He is a different kinda animal, I haven't seen a motherf**ker come close to beating him man."
He added:
"Hey Nick that sh*t was trash, I oughta kick you in yo ass when I see you PUNK!"
Be the first to receive breaking news alerts and more stories like this by subscribing to our mailing list.