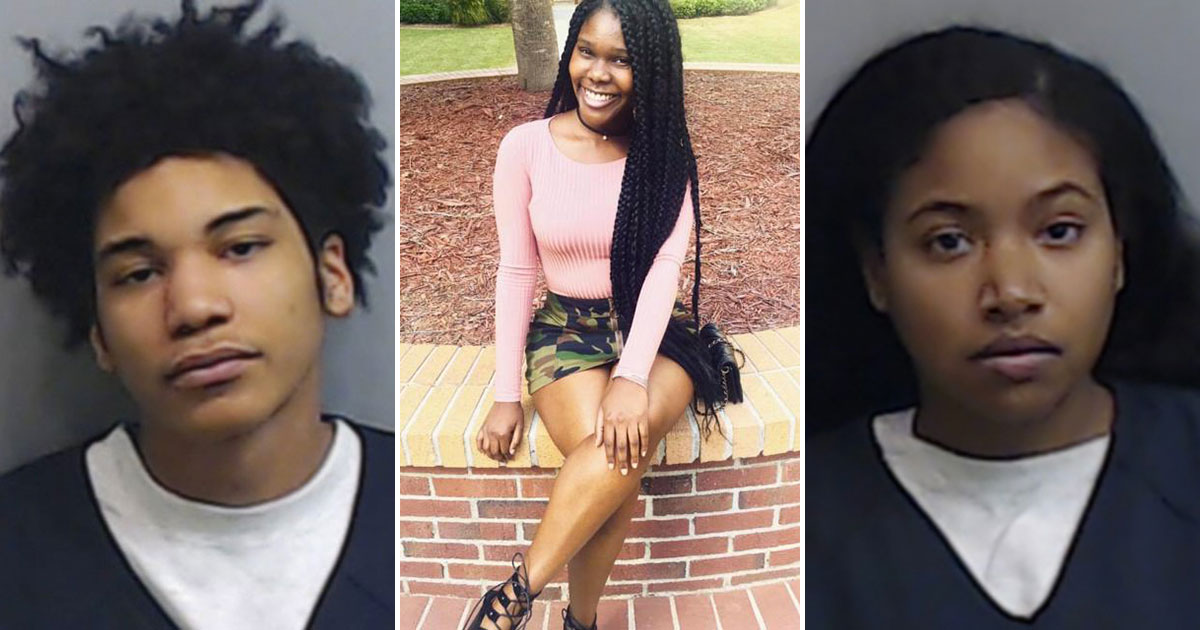 The cause of death has been revealed in the case of missing Clark Atlanta University student Alexis Crawford, and two suspects—Crawford's roommate and her roommate's boyfriend—have been arrested and charged with her murder.
Atlanta police confirmed Friday (Nov. 8) that Crawford's body had been found, ending a weeklong search for the 21-year-old that drew national media attention.
Police said Crawford's cause of death was asphyxiation, meaning she was likely killed by strangulation.
#BREAKING
MORE INFO: Alexis Crawford, 21, died from asphyxiation, per @Atlanta_Police .

— Michael Seiden (@SeidenWSBTV) November 9, 2019
Alexis Crawford was last seen alive the night of October 30th when she disappeared from her campus apartment. Her family reported her missing on November 1st.
21-year-old Barron Brantley was arrested Friday night for his alleged role in Crawford's murder, while his girlfriend, Crawford's roommate, Jordyn Jones, also 21, was taken into police custody Saturday afternoon and charged with malice murder.
Authorities said one of the suspects led them to Crawford's body, which was located in a suburban Atlanta park in Dekalb County.
While a motive for Crawford's murder hasn't been established, Atlanta Police Chief Erika Shields said just three days before Crawford went missing, she'd filed a report against Brantley for sexual assault, alleging that he touched her inappropriately and kissed her without her consent.
The alleged incident happened on October 26th inside Crawford and Jones' off-campus apartment, and Jones was listed in the police report as a key witness.
Alexis told police that the three of them were drinking when Barron started to make sexual advances towards her.
According to the incident report: "The victim stated that the suspect rubbed his hand on her shoulder and kissed her on the neck. The victim stated that she asked the suspect what was he doing and he stated he thought she was Ms. Jones."
Alexis claimed Barron then followed her into her bedroom, and, in an effort to get away from him, she went into her bathroom and closed the door behind her.
The report states Jordyn went looking for Barron and eventually found him in Alexis' room with his shirt off.
Barron denied having sex with Alexis to Jordyn, who then went into Alexis' bathroom to find her disrobed and passed out.
Crawford told police she didn't remember Brantley being in the bathroom with her before she blacked out.
By the time police arrived at the home on the night of the incident, Barron had already left in Jordyn's car. Alexis did a rape kid at Grady hospital following the incident, police said.
According to police, Jones was the last person to report seeing Crawford alive.
Jones told authorities she took her roommate—who was, as a result of the alleged sexual assault incident, sleeping in the living room after no longer feeling comfortable in her own bed—to a liquor store the night she went missing (Oct. 30) around 11:30 p.m.
Jones said when they returned home, her last interaction with Alexis was in their apartment around 12:30 a.m. before she went to bed.
When Jones left for class the next morning, she said Crawford wasn't at their apartment.
Jones said Crawford's cellphone, ID and debit card were all missing, however, police said a cellphone charger and Crawford's key to the apartment had been left behind.
Alexis' mother, Tammy Crawford, told police the last time she spoke to her daughter was October 30th and she "seemed to be in good spirits and was laughing" throughout the conversation.
Alexis' sister, Monica Wright, said the family all communicated with her that afternoon just before 3:30 p.m. on FaceTime when Alexis asked her to send her some money on Cash App.
Another sister, Alexandria Crawford, said she texted Alexis at around 8:45 p.m. and asked what her plans were for the weekend. Alexis responded "nothing" and didn't respond further.
Alexis is also said to have posted on Instagram around 9:03 p.m. and she also responded to an IG group message with laughing emojis at around 9:24 p.m. After not hearing from her for two days, Alexis' family reported her missing.
Barron Brantley and Jordyn Jones are being held in the Fulton County Jail without bond.
Brantley's criminal record includes past charges for hindering a person from making an emergency phone call and probation violations for previous charges of theft by taking, battery, family violence and cruelty to children in the third degree.
Clark Atlanta University President George French Jr. said in a statement Friday that investigators consider Crawford's death an "isolated, off-campus incident" and "there was never a threat to any other members of the community."
He added: "Tonight, we mourn together."
Be the first to receive breaking news alerts and more stories like this by subscribing to our mailing list.