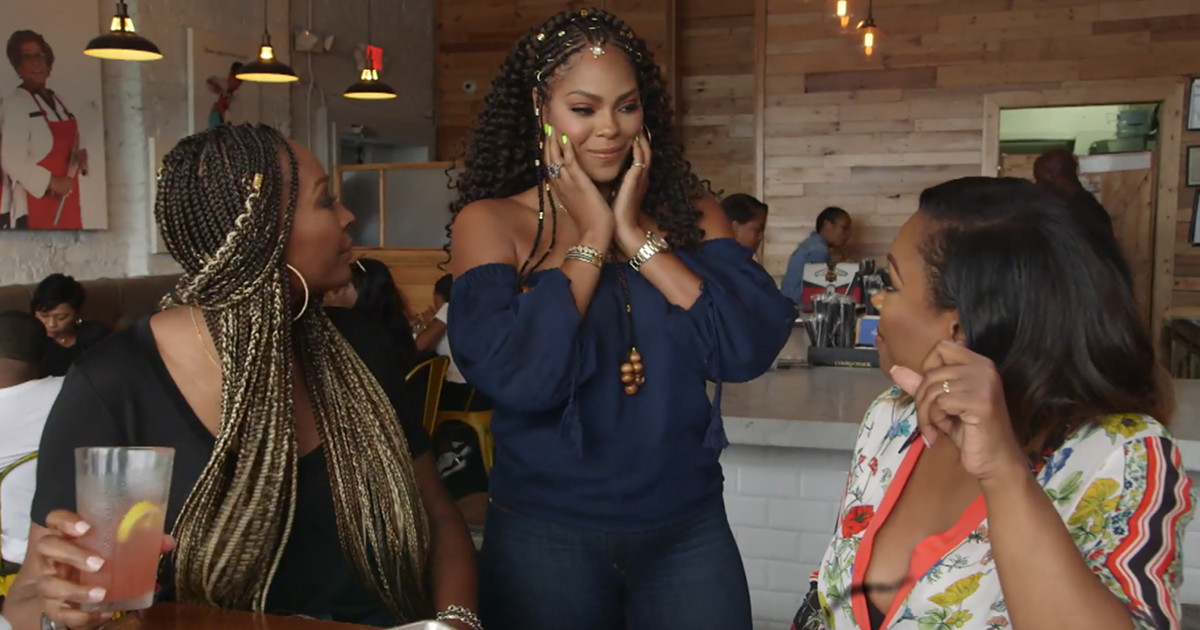 The twelfth season of The Real Housewives of Atlanta is set to premiere with a bang!
Rumors of Porsha Williams' fiancé Dennis McKinley cheating on her will be addressed head-on as the alleged mistress makes a surprise appearance in the very first episode.
In an exclusive first-look clip published by Entertainment Tonight, Sincerely Ward, in an effort to clear the air, introduces herself to Kandi Burruss, Cynthia Bailey, and Eva Marcille while the ladies were dining at Kandi's Old Lady Gang restaurant
"I feel like I should take an opportunity, because I wanted to mention something to you," Ward says to Kandi after breaking the ice by sending her drink from the bar.
"I don't know if you've been, like, on the internet or heard anything, or seen anything, but apparently there's this story out and I'm this girl in a blog that's supposedly a mistress to Porsha's fiancé…I'm 'the mistress.'"
Earlier this year, Ward was linked to Dennis McKinley—Porsha's fiancé and father of her child—by vlogger Tasha K. The shocking allegation came just one month after Porsha and Dennis had abruptly called off their engagement.
Dennis and Ward both denied anything was going on between the two. In fact, Ward said in a statement that she'd never even met Dennis before and Dennis went as far as to file a lawsuit against Tasha K. for slander.
Despite her "I'm the mistress" reveal in the teaser, Ward maintains that there was no affair. She exclusively tells Entertainment Tonight that the truth will come to light on the premiere episode.
"People who know me really know the truth. Once you see the episode on Sunday, I really feel like, everybody will see the truth of what's really real. So, that's really all I have to say about it. After that, I'm not going to respond to it or talk about it anymore."
She also claims that her appearance on the show was not orchestrated by producers. Ward just happened to at OLG while Kandi—Porsha's frenemy—was filming.
"When I saw [Kandi] and all the girls, I thought, this is my moment to go and clear my name!" she told the site. "At the same time, people can think whatever, say whatever."
The former WAGS Atlanta star says she wants to put the "foolishness" behind her and focus on her career and family.
We also know that Porsha and Dennis have reconciled and the wedding is back on. We just don't know to what extent (if any) did Ward affect their whirlwind relationship.
The Real Housewives of Atlanta premieres this Sunday (Nov. 3).
Be the first to receive breaking news alerts and more stories like this by subscribing to our mailing list.