Porsha Williams' fiancé is pulling no punches when it comes to rumors surrounding their relationship. Dennis McKinley has taken legal action against vlogger Tasha K. for reporting he cheated on Porsha.
Tasha K. recently alleged that Dennis cheated on Porsha with WAGS Atlanta star Sincerely Ward. She also claimed Dennis was a compulsive liar, abuser, drug addict, and scam artist.
However, the businessman has denied the rumors and does not appreciate the YouTuber's "slanderous allegations." He has retained fellow RHOA husband, Michael Sterling (Eva Marcille's husband) as his lawyer and is suing Latasha Kebe (aka Tasha K.).
Dennis said in a statement:
"These false and slanderous allegations against me are made solely to damage my reputation, jeopardize my ongoing businesses, and negatively impact my family. My attempts to ignore this slander have only empowered Latasha Kebe (aka Tasha K.) to create more false accusations. I am currently taking legal action—and am currently being represented by Michael T. Sterling of Dreyer Sterling, LLC."
Sterling confirmed that he is moving forward with the case on Dennis' behalf.
"I handle legal matters in the court of law, not the court of public opinion and I will take whatever appropriate measures I can to defend Dennis' good name," he said.
Sincerely Ward has also issued a statement calling the rumors "bizarre." Ward says she knows and respects Porsha and claims that she's never even been in the same room as Dennis McKinley.
"I literally have absolutely no clue [how this rumor started]," she said. "Number one, I know Porsha and I respect Porsha and I would never be involved in this kind of trash. Number two, I've never met this guy a day in my life … I don't know how my name got thrown into it."
We recently reported on possible issues in Porsha and Dennis' relationship, which she sparked herself. Porsha noticeably unfollowed Dennis on Instagram in May and has not posted a picture of/with him since May 19th.
She also posted a pic of herself not wearing her engagement ring and posted a cryptic message which read: "Not gonna worry tonight. God had it last time, God has it this time."
Porsha attempted to quell the rumors by re-following her fiancé. However, her sister Lauren and mother Diane have not done the same after also unfollowing Dennis.
Last week, Porsha also used her baby with Dennis to send a message about her relationship status.
"Mom's Taken But my Aunt is Cute and Single," the baby's onesie read.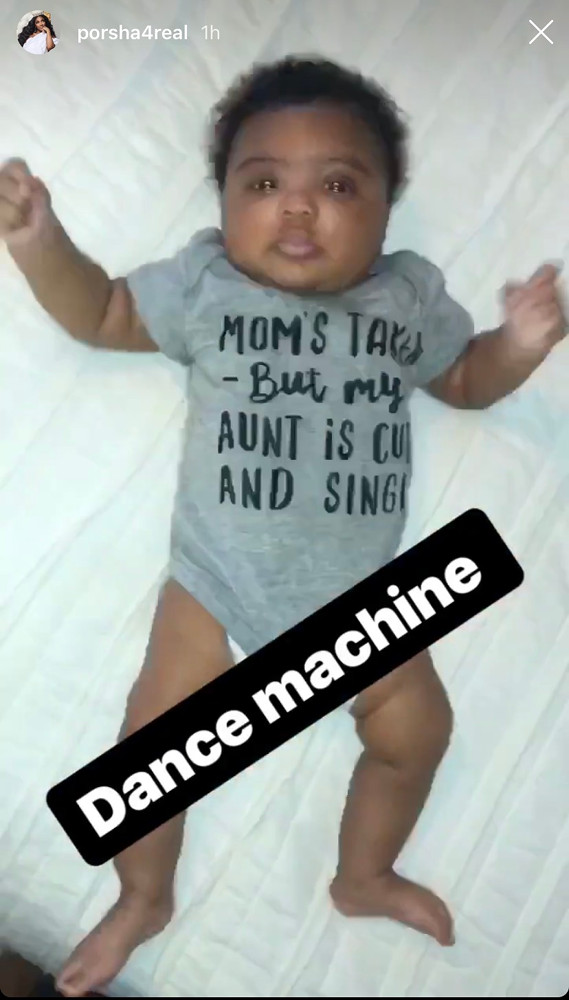 Prior to filing the lawsuit against Tasha K., Dennis used social media to curve the rumors.
He used a meme of Raptors fan Drake dodging a Warriors player falling into the crowd. Dennis labeled himself as Drake and the Warriors player as "the bullsh*t."
Tasha K. stands by her reporting, claiming the information came from a trusted source.
Be the first to receive breaking news alerts and more stories like this by subscribing to our mailing list.