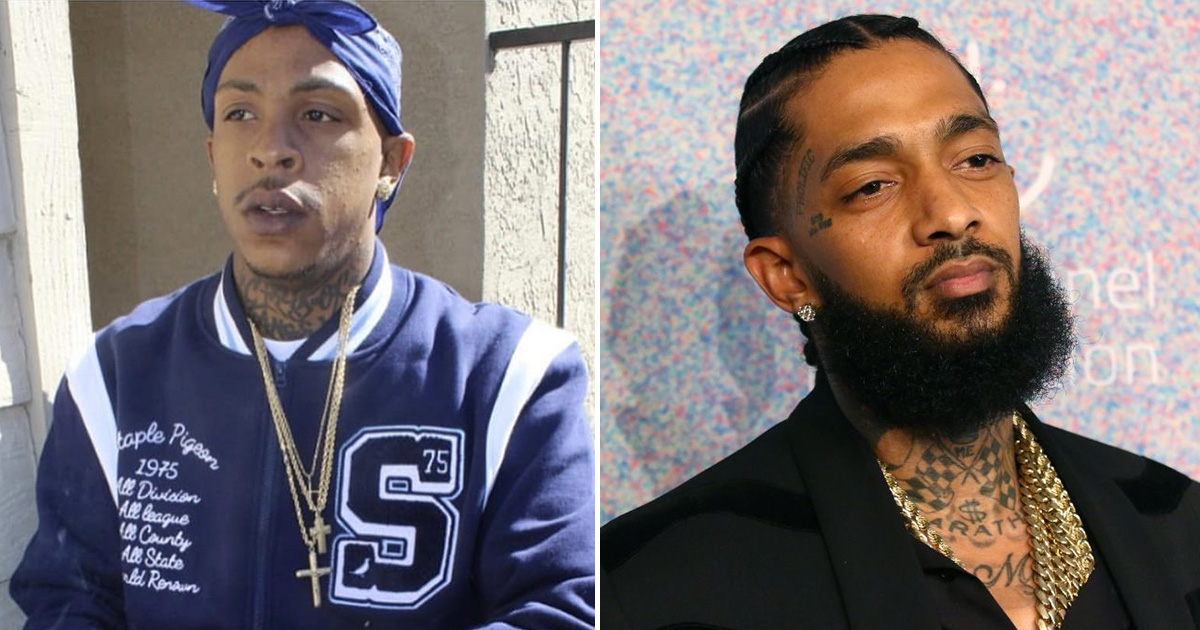 Eric Holder, the man accused of murdering beloved rapper Nipsey Hussle, was reportedly transferred to a hospital after an apparent suicide attempt.
Online reports state that Holder was found "near dead" inside his cell at the L.A. County Jail, and police believe the 29-year-old may have tried to kill himself.
The receipts are below: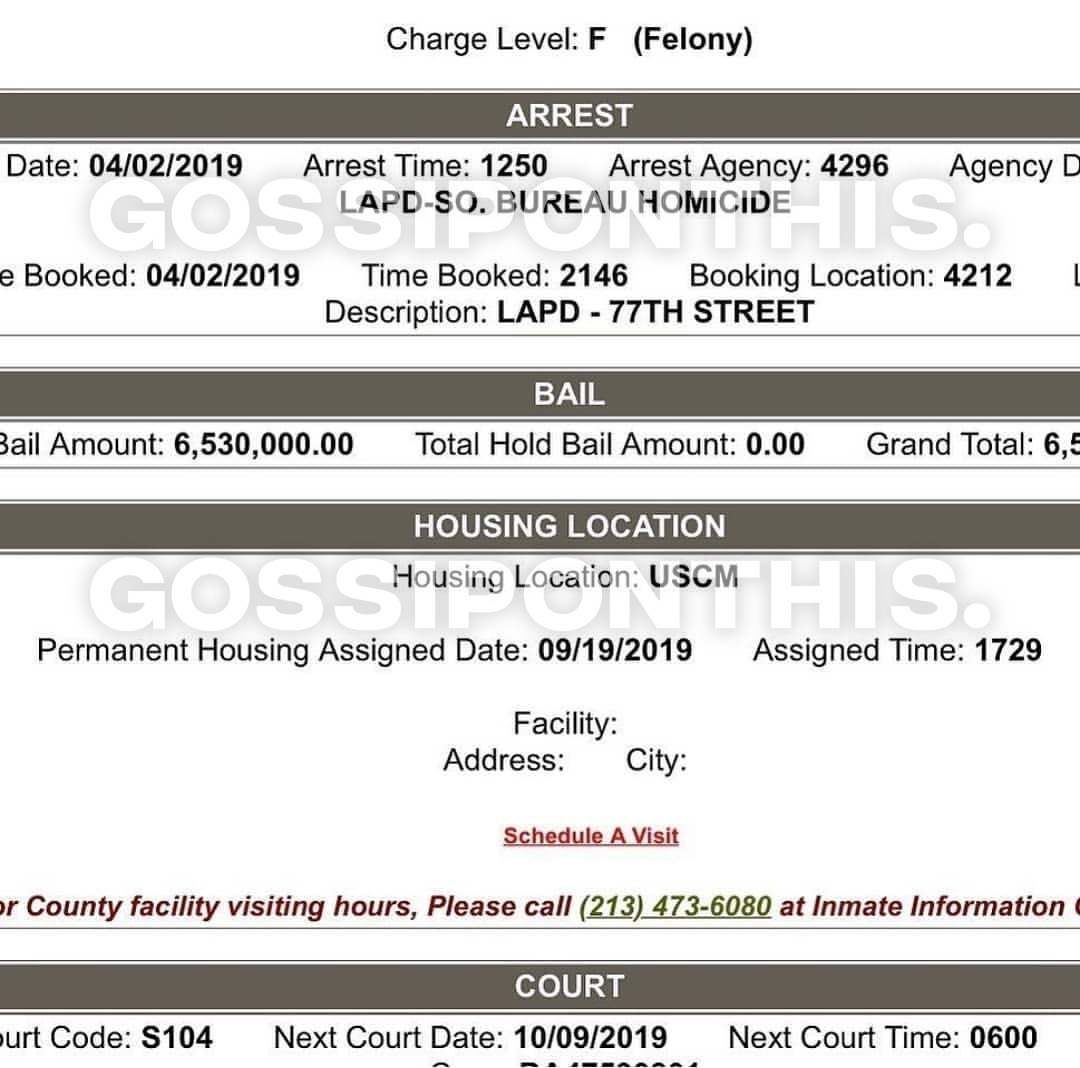 According to Holder's online inmate record, he was moved from the County Jail to "USCM" (University Southern California Medical Center), or Los Angeles County Hospital, where inmates are temporarily moved in the event of a medical emergency.
An updated version of the record (below) states that he was transferred back to the Twin Towers Correctional Facility, where he was originally being held, reportedly in isolation, sometime today (Sep. 24).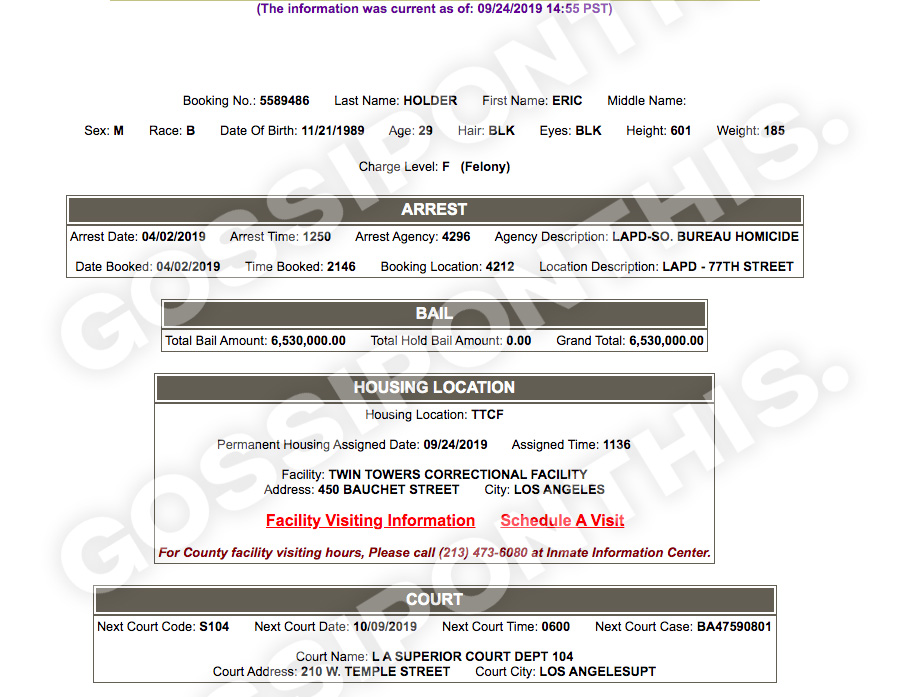 Eric Holder, who also goes by the rap name "Shitty Cuz," is accused of gunning Nipsey Hussle down on March 31st outside the rapper's Marathon Clothing store in the Crenshaw area of Los Angeles.
L.A. Police Chief Michael Moore said the shooting was a result of "personal matter" between Holder and Hussle.
"Mr. Holder walked up on multiple occasions and engaged in conversations" with the rapper, Moore said. "He came back armed with a handgun" and opened fire.
Holder's getaway driver testified in court that a conversation about snitching triggered the fatal shooting.
Graphic surveillance footage showed a gunman, believed to be Holder, walking up to Hussle and two other men in front of the store the rapper owned in a strip mall at the intersection of Crenshaw Boulevard and West Slauson Avenue in L.A.
The gunman then opens fire, and Hussle hits the ground as the other men run from the gunfire. The 33-year-old was rushed to the hospital, but could not be saved.
Holder was identified as the shooter just days later and was arrested on April 2nd after a brief, two-day manhunt. He was indicted in May on one count of murder, two counts each of attempted murder and assault with a firearm, and one count of possession of a firearm by a felon.
Holder, who also wounded two others during the shooting, pleaded not guilty to all the charges. His bail was set at $6.53 million.
Christopher Darden was originally announced as his attorney but withdrew from the case a month later citing death threats.
Holder is due to appear in court next month (Oct. 9) as prosecutors prepare their case against him for Nipsey's murder. If convicted, he could face life in state prison.
Be the first to receive breaking news alerts and more stories like this by subscribing to our mailing list.