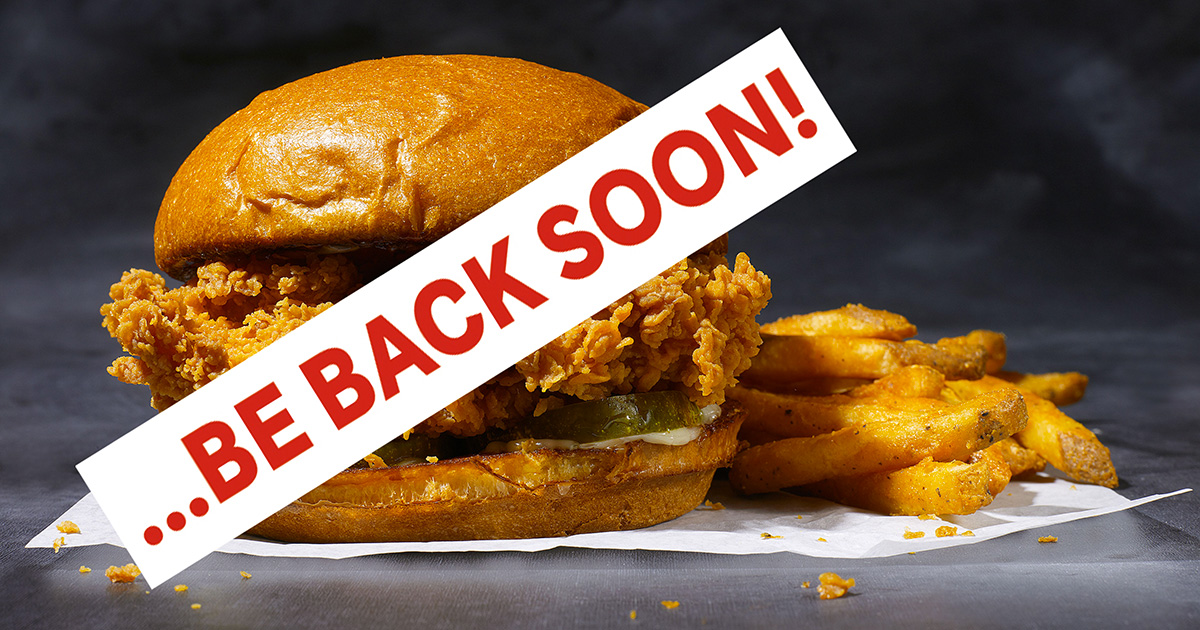 If you haven't been able to get your hands on one of those famous Popeyes chicken sandwiches, then we have some bad news for you. Popeyes says they are COMPLETELY SOLD OUT of their most popular menu item.
Popeyes released a statement Tuesday (Aug. 27) announcing that it will likely sell out of their chicken sandwiches before the end of this week—just two weeks after it was added to the menu.
Popeyes said they initially estimated that they would have enough sandwiches to make it through September, but because y'all greedy asses went to Popeyes in droves (and raved about how good the sandwiches are, and how they're supposedly better than Chick-fil-A's) they ran out of supplies well before then.
But worry not, because the fast-food chain says they are "working tirelessly" to bring the sandwiches back "as soon as possible." And if you would like to be one of the first to know when the sandwiches are available, you should download their mobile app for Android and iOS.
Y'all. We love that you love The Sandwich. Unfortunately we're sold out (for now). pic.twitter.com/Askp7aH5Rr

— Popeyes Chicken (@PopeyesChicken) August 27, 2019
Read their full statement below:
"We have seen an extraordinary demand for the new Popeyes Chicken Sandwich following our nationwide launch on August 12. It has been amazing to see our guests share their love for our brand and for the new Chicken Sandwich on social media and beyond, and we are truly humbled and grateful for their support.

"The demand for the new Chicken Sandwich in the first few weeks following launch far exceeded our very optimistic expectations. In fact, Popeyes aggressively forecasted demand through the end of September and has already sold through that inventory.

"As a result, Popeyes restaurants across the country are expected to sell out of the Chicken Sandwich by the end of this week. We, along with our suppliers, are working tirelessly to bring the new sandwich back to guests as soon as possible.

"To be among the first to know when the Chicken Sandwich is available, download the Popeyes app in the App Store or Google Play and sign up for push notifications."
Unsurprisingly, Twitter is NOT happy about the chicken sandwich shortage:
How are you a national chicken franchise and sell out of chicken nationwide?

— PanYeaux.. Yo? (@yungblknfly) August 27, 2019
Waited in line at @PopeyesChicken for 35 minutes just to get told no more sandwiches ?!!!!

— Ty Hill (@cheetah) August 27, 2019
The bitch Popeyes done sold out nation wide I didn't even get to try it?

— Lay (@AlIaysia) August 27, 2019
Y'all greedy asses ate all the Popeyes Chicken Sandwiches ? they sold out worldwide …I never got to try one ?

— Cea?? (@nathasraz) August 27, 2019
Popeyes tripping bruh, how they run out of sandwiches knowing damn well that's the only thing everyone wants.

— CJ (@C_Jenkins011) August 27, 2019
I didn't even taste the chicken sandwich from Popeyes and that mf sold out ?

— mamí. (@J_Lanai) August 28, 2019
Ian even get to try the Popeyes sandwich now it sold out ?

— . (@BigDrecko) August 28, 2019