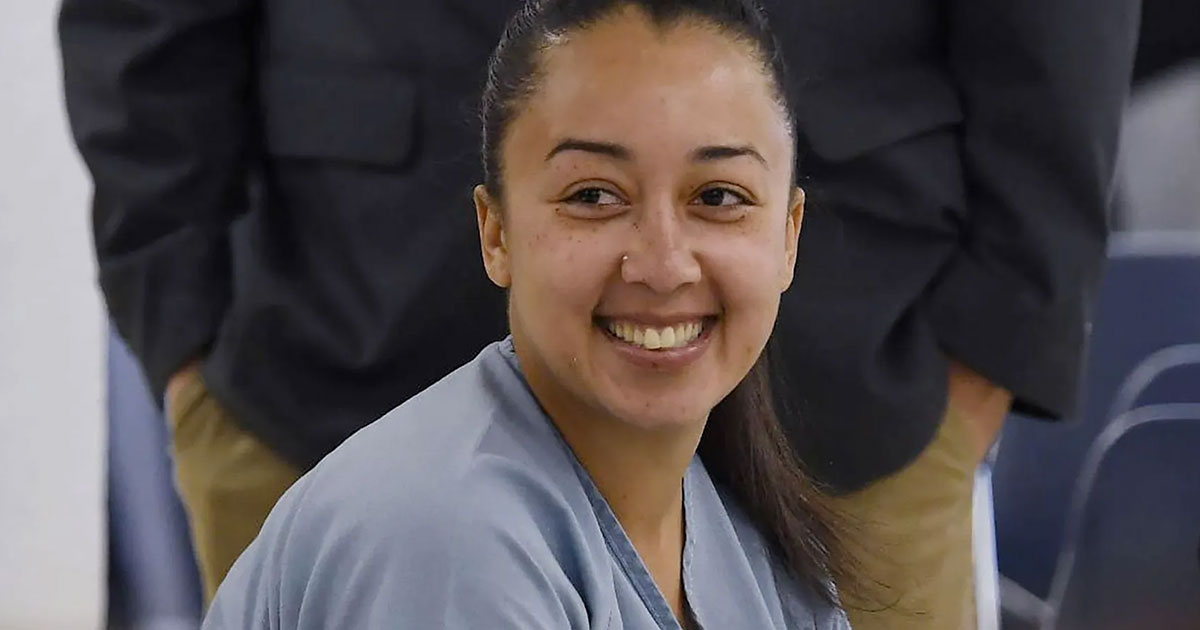 After spending half of her life behind bars, Cyntoia Brown walked out of prison a free woman early Wednesday morning (Aug. 7).
Her attorneys confirmed she was released from the Tennessee Prison for Women in northwest Nashville around 3:30 a.m. CT
Brown is an alleged child sex trafficking victim who was sentenced to life in prison for the 2004 killing of a 43-year-old man who bought her for sex when she was just 16 years old.
When she was just a teenager, Cyntoia ran away from home and met a man named "Kutthroat," who forced her into drugs and prostitution and also introduced her to 43-year-old youth minister and real estate agent Johnny Allen.
Despite her young age, she was tried as an adult. During her trial, Brown testified that on August 7th, 2004 she was solicited for sex by Allen, who picked her up and drove her back to his house. There, Brown said she saw a gun cabinet in Allen's room.
Brown said she resisted Allen until he appeared to reach under the bed, and at that moment, she believed he was going to kill her, so Brown took a gun out of her purse and shot Allen, killing him.
Brown claimed self-defense, however, prosecutors argued that Brown's motive was robbery, and not self-defense, since she took the man's wallet after she shot him.
She was convicted of first-degree murder, first-degree felony murder and aggravated robbery, all of which carried concurrent life sentences and eight additional years, and she wouldn't have been eligible for parole until she was in her sixties.
The harsh punishment for a teenage victim of sex trafficking sparked outrage all over the country, especially after celebrities like Rihanna and Kim Kardashian came to Brown's defense on social media in 2017.
Brown's case also drew the attention of other high profile advocates, including a U.S. congressman and several Tennessee lawmakers.
Back in January, Tennessee Governor Bill Haslam granted clemency to Brown, who is now 31 years old.
In Tennessee, executive clemency is considered "an act of mercy or leniency providing relief from certain consequence of a criminal conviction," according to the state's Executive Clemency Unit.
At the time, Haslam said Brown's case was one that "appears to me to be a proper one for the exercise of executive clemency." He continued: "Over her more than fourteen years of incarceration, Ms. Brown has demonstrated extraordinary growth and rehabilitation."
During her time in prison, Brown completed her GED and received an associate degree from Lipscomb University in 2015, and, according to the Tennessean, she obtained her bachelor's degree in the Tennessee Prison for Women in May.
She also mentored women while working as an unpaid consultant for the juvenile justice system.
"I learned that my life was—and is—not over," Brown said in a 2011 documentary, Me Facing Life: Cyntoia's Story. "I can create opportunities where I can actually help people."
Brown will be on parole for the next 10 years. Under the conditions of her parole, she must maintain employment or be enrolled in school, and she will also be required to participate in regular counseling sessions.
She'll also be required to perform at least 50 hours of community service, including working with at-risk youth.
Be the first to receive breaking news alerts and more stories like this by subscribing to our mailing list.